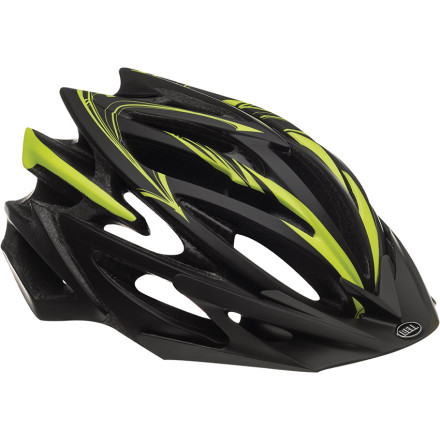 Detail Images

Videos

Community Images
Description
Stay energized, on-road or off.
We wouldn't be too far out of line if we called the Bell Volt Helmet the most versatile on the market. You'll see this thing everywhere, from the dome of Cadel Evans as he rode to a Tour de France championship in 2011, to the heads of trail-crushing mountain riders high in the hills of British Columbia. What makes the Volt so capable? Simply put, it's just a great all-around design, and here's what we mean:
Weighing in at 320g, the Volt is a lightweight enough to be considered for road duty, but it's heavily reinforced EPS foam dome and carbon fiber Fusion In-Mold MicroShell make it undoubtedly tough enough to withstand impacts out on the rocks, too. The Volt is remarkably breathable, as well, with 22 strategically placed vents that service to both pull cool air in and exhaust warm air from the rear.
The ability to dial in a precise fit is another area of the Volt's supremacy. As per most Bells, the Volt favors more round heads, as opposed to the oval-esque profile of, for example, many Giro helmets. The helmet's profile provides enough lower-rear coverage to make it sufficient for mountain use without compromising its lithe feel if you want to wear it on the road. Bell fits its easily-adjustable TAG fit system to sort out an optimal diameter fit as well as desired placement of the support harness around your occipital lobe (the bump at the back of the skull). Finally, the Volt also employs X-Static padding, which features a silver metal treatment that mitigates static build-up, accelerates sweat evaporation, and also lends antimicrobial properties to the foam so that gross smells won't manifest.
The Bell Volt Helmet is available in sizes Small, Medium, or Large, and includes the adjustable and removable VPV Visor (and plugs, should you choose to ride without). It comes in a wide variety of colors.
Review of Bell Volt helmet
Gender:

Female

Familiarity:

I've put it through the wringer
I'm a woman and have a small head: this helmet (small) fits great. I've been using the Bell helmet line for many, many years. Tried & true. I'm fairly picky and for the cost of the Volt, the product is awesome. I live in So. Cal. & love the visor, although I'm primarily a roadie.
Unanswered Question
Does the Matte Blue/Black (*Discontinued)...
Does the Matte Blue/Black (*Discontinued) that is on sale come with a visor?
Great Fit If...
Familiarity:

I've put it through the wringer
I have a "Bell head" this is my 3rd Volt and it fits me perfect. I use it for road, MTB and Cross. I have a big head and this is the only helmet on the market that fits me.
I actually tried some other brands after my Bell Ghisello had the radish and needed to be thrown away. None of them fit my head, and it is clear your head is either a Bell/Giro/Lazer/LG etc. Fit is key obviously, but I also like the way it looks and vents. The visor seems a little odd for a road helmet, but it easily snaps on and off, so take it or leave it. If you have a "Bell" head - great choice.
Item # BEL0002 Bell Volt Helmet
Comfortable helmet
Gender:

Male

Familiarity:

I've put it through the wringer
Good helmet. Lightweight, vents really well and the adjustment is easy. Seems to have a slightly different fit than the Giro helmets, which worked better for me personally.
Unanswered Question
Has the Bell Volt line changed much since...
Has the Bell Volt line changed much since its introduction in 2008? To me it appears to be the same, with no real updates to the line since then. Just wondering if its old tech. Much thanks.
does it meet aus/nz safety standards
does it meet aus/nz safety standards
The stamp for AU/NZ safety standards is applied at customs. They cut two of every 1000 helmets (or a number similar to that) in half and test them. Because of this only helmets ordered from the manufacturer in bulk will have the required stamp.
I bought size Large and it weighs 342g which surprised me. I have a Bell Furio which is a low end helmet that ways 322g. I was hoping the Volt would be around 280 (as advertised), noticeably lighter than the Furio on a long ride. Still, everything else about the helmet feels very comfortable and it's about the same weight as the Giro Saros helmet (330g) that I returned (looks huge, and the adjustment mechanism is not as easy as the Volt's wheel).

I really feel the super premium price point of the helmet should be on the light side of the spectrum, hence the three stars.

RealCyclist is awesome in their customer service, excellent return process and cheap return shipping makes ordering risk free.
The Volt is as good as it gets! Light weight - wear it and forget it. Superb ventilation - I've had cheaper Bell Helmets and had issues with sweat dripping down my forehead and all over my glasses - not so with the Volt. Fit is stupid-money. Got a funny shaped head and Giro's always fit like crap - Bells are spot on for me. Retention system on this is easily adjustable and holds the lid to your head without any uncomfortable pressure points. Really dig the removable visor as this helmet does road and MTB duty - looks sweet both ways. Great colors too - I've got the Saxo replica and it's sweet having a helmet that all the other Fred's don't have. The silver Carbon fiber trim is silly, but looks cool. Great helmet all around.
Sweet lid. It's super light and fits far better than my old Flux. The adjuster wheel works well, the removable visor feels solid and can be adjusted up or down when in use. Nice to be able to use this on pavement as well... now if I only had a road bike.
This helmet is extremely easy to get a perfect fit..even while riding. There is a knob on the back that instantly adjusts for perfection. There are lots of vents, so if it is chilly, I recommend a skull cap for warmth.
Another Great Bell Helmet
I have been riding Bell helmets for years. This helmet replaced a sweep that I broke in a crash (my head is still intact) and the fit is very similar. The new pads are a nice improvement and seem to absorb sweat better than the ones in my Sweep. Every Bell I have ever had has been cool and light, the Volt continues that tradition, it is very cool in the heat. I love the dial ratchet, it lets me quickly adjust the size mid ride if I take my wool hat off when it warms up.
Unanswered Question
Is this the 2009 model?
Can't believe I ever road w/o this helmet.
I got this helmet for my birthday this year; not only was it the best birthday gift I couldn't believe I had been riding w/o it.

The previous revue is spot on; this Helmet is light, breathes great, adjusts and fits well. Though, I didn't pay for my helmet I would have considered this a deal.
I shopped around quite a bit before selecting this helmet. This one seemed to fit my mellon the best and was lite and confortable. The helmet keeps your head cool on hot days and has good air flow. Some of the veins are reenforced with carbon, which adds strength and looks sharp. Great value for the money compared to other high end offerings. I have a medium, which weighs 310g dispite the Bell site claims of 280g.