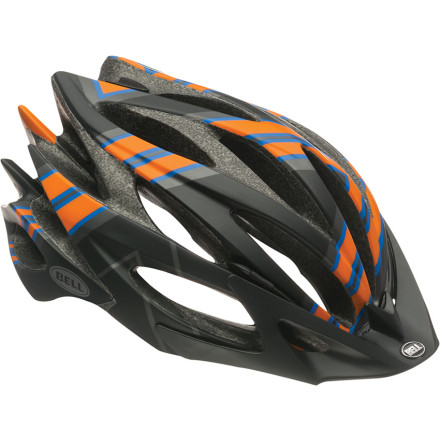 Detail Images

Videos

Community Images
The Bell Sweep Helmet is a no-nonsense helmet that balances strength-weight ratio with aplomb. Well-ventilated and as light as the top line Volt, the Sweep checks all the boxes of modern helmet design and expectations, but makes only the tiniest dent on your pocketbook.
The Sweep's 20 vents will keep your head you so ventilated you'll think you're riding bare-headed. There has been debate recently as to whether a helmet can get too light and heavily vented to be safe. You won't have to worry about that, though. With the Fusion In-Mold Microshell, Bell has created a helmet that has molded together the fuselage and the EPS foam as one piece rather than coming in two separate entities and then glued together. Bell pioneered this process, and it results in a sturdier, safer helmet. In order to minimize bulk and maximize ventilation, the Sweep's Internal Reinforcement structures fortify the helmet's strength, but still allow for the sorts of ventilation that modern riders demand.
Bell has long made the removable visor an element of their helmets. This time the Sweep has what they call a VPV, or Variable Position Visor, that not only is removable, but adjustable vertically up to 15 degrees. Just move it up or down with your hand to find the desirable position. That's not all that is adjustable: Bell has set out to make their helmets the most comfortable by allowing for all possible types of heads. They've taken into account that helmets need not only have an adjustable circumference, but also a different height in terms of where the retention strap rests on the occipital lobe. By designing their Twin Axes Gear (TAG) fit system, Bell makes it easy to find the perfect way to make the Volt suit just about any head's size around as well as up and down.
The cam-lock levers help you find that final chin strap adjustment from your ears to your jaw. The Bell Sweep Helmet comes in three sizes of Small, Medium and Large. It is available in Matte Black/Carbon, Red/Black and White/Silver. Like the Volt, the Sweep weighs just 297 grams.
Unanswered Question
how does the rear work with ponytails?
lightweight/breathable
Gender:

Female

Familiarity:

I've put it through the wringer
Even though I am a roadie, I kept the visor on -although, removing and installing the visor was really easy. This helmet for the most part is incredibly lightweight (but to be fair, my last helmet was a skate specific helmet, so anything that is built specifically for biking is a huge improvement). As stated in a previous review, there was minimal for inside adjustments, but other adjustments at the straps are simple and seem relatively strong.
After smashing my Specialized Echelon when my wheels slipped out from under me on a fast turn, I got the Bell Sweep on sale as a replacement. To reiterate the good things about this helmet: it's easily adjustable and it looks sweet. It has a nice, streamlined and fast look to it. Being a roadie, of course, I ditched the visor. Roadies wear shades. :D



The helmet isn't perfect. There's minimal padding inside--basically what's along the front forehead is about it. Fortunately I had some stick-on padding from my previous helmet that I could position to make the fit more comfortable. The front pad also becomes saturated with sweat pretty quickly and drops down my sunglasses or down my nose. Which means that sometimes I have to stop every once in a while to squeegee the pads. A headband or other sweat-absorbing headgear would be a good idea on longer rides or in warmer climes.
My wife has a suitable helmet that will protect her on all the team rides that she does on a weekly basis. A helmet is key to get the protection you need in case something unfortunate occurs. This helmet will do just that for you!
good fit.
Gender:

Female

Familiarity:

I've used it several times
had looked for a few months, tried a few, and this was the best-fitting for my head, which is wide in back and on top. easy adjustability, and it's light, relatively. i do get sweat in my eyes and sometimes my glasses fog up, which they never did with other helmets. doesn't mean it's the helmet's fault, though.

i'm keeping it.
Unanswered Question
Is this really a road helmet? I don't see...
Is this really a road helmet? I don't see where the visor comes off, and what the front looks like underneath....
Wow. Saved my melon today...
I've been using this helment for a year road and mtn biking. This evening: Single track...switchback...little too much speed...off side of trail...front tire drops between logs running parallell to my direction of travel over a small ditch...take a header, first thing to hit logs...my Bell helmet...square on top of my head. Slow motion thought was that I was screwed and will be seriously hurt. On impact I felt the pads/hard foam lining compress around my head. Amazingly, I had barely a headache, small dent in the helmet outer shell, tiny scratch on my knee, (maybe a sore neck tomorrow morning)...thank you Bell!!! This baby was worth every penny today...
Great value for a top-flight helmet
I've worn Bell helmets for years, but when it was time to replace my old one, I looked at several brands. I ended up ordering 2 different Giro models, but could never get the right fit without spending an arm and a leg. So I ordered the Sweep and have been very happy with it. At least as good of a helmet as the Giros at a lower price.
Are replacement pads available when the...
Are replacement pads available when the internal padding deteriorates over time? I have owned excellent helmets from both Bell and Giro......they still look good, but the padding inside has all but disappeared.
Bell North America has pretty good customer service, you can call them and request replacement pads if something were to happen during the warranty period.

You can also by replacement pads through a local Bell dealer or online, search Bell Replacement Pads.
The Bell Sweep is for you if you have a "Bell Head". I tried Giros, but they never quite felt right. I ran into an engineer for Bell one day and he said the fits are different for the 2 brands (Bell and Giro are apparently owned by the same company). That having been said, I love the Sweep - it is light, comfortable and easily adjusts. The visor is generally off for me since I ride on the road, but the idea of a dual purpose helmet makes great sense. I have not had drying issues, but I ride it in Utah with no humidity, so that probably helps.
Great helmet! Looks great too. The visor is big enough to keep sun out of your eyes, and small enough to still be pretty aerodynamic
Best helmet you could buy
Pros: Light, well vented, detachable visor so it can double as a road helmet, looks pretty awesome.

Cons: Im nit picking here, but the pads on the inside take forever to dry, Ive put on my helmet still wet from the day before plenty of times.

I love this helmet, Ive had one for a few seasons and I have no complaints. I think it is just as nice as the much more expensive Giros and would recommend it
I measure 59cm and am not sure whether to...
I measure 59cm and am not sure whether to get a medium or large Bell Sweep. No local shops have them in stock, so I cannot try on.

Any tips on sizing?
, ☃bcs_badge_alumni_label☃
I'm in the same boat, falling right between the M & L (59cm) and wear a Medium comfortably.
An important thing to consider is a place that has a satisfaction guarantee. If it doesn't fit you can always return it then.

That being said I am the same way. I measure right at 59 and have found that both the Large AND the Medium fit me fine. Keep in mind that just because your head measures right at 59 doesn't mean you want your helmet to be exactly that. It should fit like a belt, not too tight but not loose.

I went with a large helmet because it still fits snuggly and I have some extra room for the winter when I want to wear a cap or balaclava under it. The choice is yours, good luck!
Good replacement for my Pneumo.
Just got the helmet, and after 1 ride I can tell I'll like it better than the Giro Pneumo it's replacing. I don't know if it actually is lighter than the Pneumo, but it feels lighter. Fits more snugly, without the two Pneumo Dents in my forehead after every ride (better padding. Looks are great too, but I wish I'd gotten a flashier color this time... the matte mag/ti is pretty subdued. Not the helmet's fault though. This is my first high dollar Bell, and I can see why people buy them. Specialized and Giro have been ok, but this one fits me better.
Super good Bell VIDEO info:
http://videos.roadbikereview.com/?bcpid=1529573320&bclid=1815816745&bctid=1818365002

Check it!