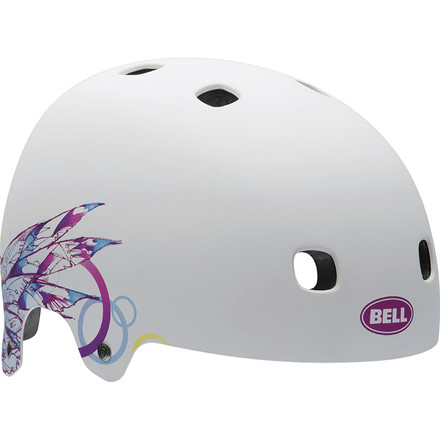 Detail Images

Videos

Community Images
Description
A dome divided cannot stand.
Ever tried to walk around with a split skull? Not so good, right? Keeping your brainbucket intact is a good way to ensure continued functioning of your EVERYTHING, and if you can look fly while staying safe, so much the better. Bell's skate-style Segment Helmet will keep your cerebral cortex from getting scrambled with an ABS hard shell and EPS foam liner that work together to absorb and dissipate impacts from vert ramp crashes, bike park bails, and BMX tumbles. While classic skate-style helmets were as uncomfortable as they were rad, the Segment features a shell that's more flexible than most, without sacrificing protection, so it actually conforms to your head instead of rattling around or squeezing it to death. Eight vents keep the air flowing over your luxurious salad, and the light weight (under one pound) won't take away from your amplitude.
ABS shell
EPS foam liner
Passive ventilation
Best Helmet
Familiarity:

I've used it several times
First, this is the most stylish helmet of its kind. It sits low enough that you don't look like a bobblehead. Next, its actually certified so it will protect you when you crash. Buy this helmet!
Plus Dome
Familiarity:

I've used it several times
So here I am, in dire need of replacing my current lid, its days are finally numbered. For whatever reasons unbeknownst to me (nostalgia?), I am still rockin' the skater style lid. After seeing the Segment, I knew I needed to be wearing it.

Gold Flake 500 por favor. Daaamn, talk about bass boatin' sparkles for days! Sure, there are some other more subdued colors it comes in, but I plan on using this for the upcoming season of SSCX. Best recognize!

Anyhow, wearing this thing, the fit is on point. Comfy and secure like a kangaroo pouch around my crown. But, but, but, here is where things turned my smile upside down... It gets hot, like cruise ship boiler room hot. I knew going in it only had like 8 vents, but dang, I seriously can't wear this in the summer time. Sure, in the fall and winter seasons, it'll keep me warm and toasty, but for right now, in the hot and humid south, no freakin' way.

Maybe you live in a cooler climate? Maybe you're one of those riders who refrains from having mid-ride sweat showers pour down your face? Whatever the case, if you answered yes to either of those, then this helmet is definitely for you. Unfortunately for me, I require a bit more air flow in the dome department, thus the search continues.