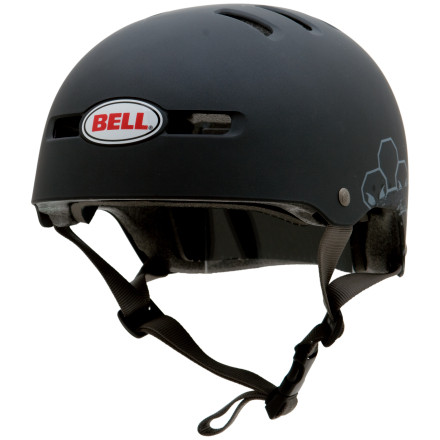 Detail Images

Community Images
Give your little ripper the gift of the safety with the Bell Youth / Kids' Fraction Bike Helmet so that they can bike, skate, and bang their head against the wall with full protection. Bell infused the Fraction's shell with EPS foam for added durability and strength rather than combining two separate layers. The easy to adjust Ergodial, pinch-proof chinstrap, and camlock ear straps all work together to give your child a dialed-in fit.
Perfect for the kid's melon
Good fit with lots of adjustability from included pads. Stays put, offers great protection. Oh and guess what - fits on a girls head too! I like it - but she loves it. Good for bikes and skating.
My daughter loves this helmet. It is very comfortable and adjusts for head size.
Unanswered Question
my granddaughter's head diameter is 50...
my granddaughter's head diameter is 50 cm., what size helmet
should i get for her?
My nephew refused to wear a helmet because they are so dorky looking. So i got him this helmet and he now wears it every time he bikes. He loves the design and it fits great.
Bought the XS for my 4 year old. He picked the bug camo color. It fits with a combination of pad sizes. It will probably last him another year or so. This helmet would be better with the dial fit system other child helmets have which would allow the fit to be customized a bit better. We do love how this helmet looks and its durability. It is pretty much bullet-proof.
What is the sizing on the x-small? Your...
What is the sizing on the x-small? Your size chart only shows the small. Thanks!
I got the x-small for my two year old. It said it fits sizes 48-53CM. It comes with two sets of insert one is about 1cm thick the other about .5 cm thick. I was able to combine the two to dial in a perfect fit with no flopping around on his head.
Bell Fraction Bike Helmet - Youth / Kids Helmet
This helmet is great, super bright, great fit, and if you have kids you know that fitting a helmet to a small head is a challenge. Got the same size XS for my 6 and my 4 year old. They love them; this is the first helmet that works for them.
Bell Fraction Bike Helmet - Youth / Kids
Every parent knows that finding a helmet that actually fits kids ages 3-7 is a challenge. Well, my search is over. This helmet is super burly, fits well, and size XS works great for my 3 and 6 year old boys. They love the evil demon graphic on the side. Great color, you can't miss it!
Style kids love, safety and fit parents love
I got this helmet for my 2-year old in XS. Even thought the helmet doesn't have an ergodial adjustment as described in copy I actually see that as a benefit now. I used one of the included extra pads to dial in the fit for my son and it was perfect! I really appreciate that there is not a side gap in the helmet like you see on so many of the universal fit helmets. This helmet never flops to the side, front or back, good fit is key. The styling is great. I wanted this helmet because the back was nice and round and doesn't tend to push over the eyes when used with a burley trailer or car set. I also like the styling because it can be used for Bike, BMX, or skateboarding. The helmet is a little on the expensive side comparing it to others but well worth it.