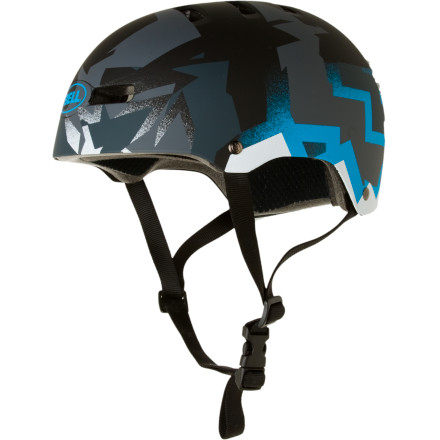 Detail Images

Videos

Community Images
Old-school style and new-school tech come together in the Bell Faction Bike Helmet. Skate-inspired styling with low profile in-mold construction technology and generous venting make the Faction perfect for BMX, mountain biking, and skateboarding.
Share your thoughts
What do you think of the
Bell
Faction Helmet
? Share a...
Can this helmet used for riding bicycle....
Can this helmet used for riding bicycle. I mean should not look awkward?
Best Answer
Absolutely. In fact, it's intended for bicycling.
What Angus said.

It's the people without helmets that look awkward!
Is this helmet sized for youth or adult,...
Is this helmet sized for youth or adult, and can it be back ordered?
These helmets are adult sizes. The exact sizing can be found if you click our size chart button up by the price.
Hey Kathrine,
I apologize, but we don't offer backorders at this time.
Sorry for the inconvenience.
My daughter wears one whenever she rides her bike or scooter or skateboard or whatever. Reasonable selection of replaceable pads to make sure the fit is right. Minor downside, it floats around a little bit and doesn't seem to vent real well.


Bought for my son to use. I was worried he wouldn't wear a helmet he didn't like. He loves this one, has put tons of stickers on it and now never rides without it on which obviously i'm happy about. Plan on buying one for myself here shortly.
are these helmets made in the USA
are these helmets made in the USA
These helmets are not made in the United States.
I've had my same crappy, goofy-looking Bell helmet for years and years, so when I went to shop around for a new helmet, I chose carefully. I know that Bell makes quality helmets, and I wanted to find a helmet that I would feel good wearing. This is the helmet. It's slick, has a sick pattern, and is really comfortable. I always want to show it off and I get lots of compliments. If you're looking for a unique helmet with some subtle flair, definitely go for this one.
I do love this helmet it is light, cool and airy. And I don't feel like a nerd wearing it.
Matte Black Bell Helmet... HEAVY!
Pro: All matte bell black helmet looks sick.
Comes with 3 cushion sizes, easy to find your comfort.

Con: It's heavy and weighs your neck down.
Pay to return products.

Solution: Spend $10 more for the Gyro Helmet!
Do you know if you can tear off the BELL...
Do you know if you can tear off the BELL tag/sticker in the front cause it would be a nice looking helmet without it!
I believe that the Bell logo is screen printed on so it would be very difficult to remove.
You should look into the Giro Section Helmet- Its only a few $ more. It does have a little graphic on the back but it comes in a bunch of different colors. I ride with a Bern helmet that is the same idea but it is flat black- I'd recommend it highly. Google it. Good luck
it is a sticker. it comes right off.