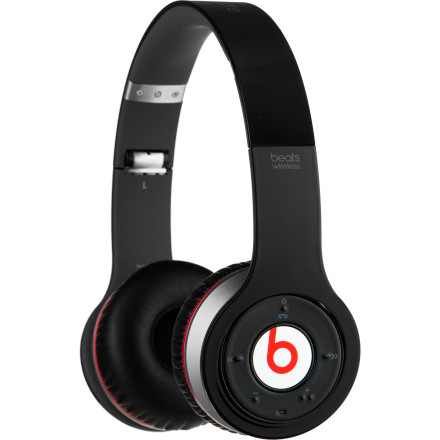 Freely move about your dorm room or kitchen and rock out without disturbing your roommates or coworkers with the Beats by Dre Wireless 1.5 Bluetooth Headphones. These quality-designed headphones deliver a clear, strong, and powerful sound for a stellar listening experience while you fly, do chores, or work away on your computer. Plus the Wireless comes equipped with Bluetooth capability so you can manage calls and stay up to date.
A clear, strong, powerful sound ensures a pleasurable listening experience
Stream audio from your laptop or any other Bluetooth-enabled device from up to 30 feet away
Beats Wireless headphones support SBC, APT-X, and AAC Bluetooth, which ensures you'll always have a high-quality stream
Controls on your ear cup manage phone calls and music for easy use
Ten hours of battery life means you can listen to your tunes for hours without interruption
To recharge your headphones, just plug your Beats headphones into any computer or USB port
Headphones include a Beats Wireless Bluetooth on ear headphones, USB charging cable, in-line remote and mic cable, a carrying case, and a Beats cleaning cloth
Please note before use you must charge the battery and pair the headset with a compatible device
Height: 7.76in (19.7cm)
What do you think about this product?
Have questions about this product?
If you're picky and like your music to sound precise and clear, I would recommend. I haven't noticed these getting super uncomfortable, but I have only worn them for an hour or two periods. The wireless feature on this makes walking around while keeping on task very doable. The downfall, these aren't very conducive to wearing while doing anything very active. So while I will definitely not be taking these riding anytime soon, I will enjoy a night in on the couch jammin'.
Do people think these are worth the money? How do they hold up?
Best Answer
They are not worth the money. They don't hold up well, and the sound quality is not great either. They are really a fashion piece.



If you search the web for top 10 audiophile headsets or similar, you'll find lots of way better stuff for a lot less.



If your priority is portability, I'd suggest some Etymotic wired earbuds, or Jabra's bluetooth headphones if you must have wireless.



(And yes, I speak from experience... I own a (wired) pair of Beats. After replacing the cords a few times they headphones began to rattle. This happened in a little less than a year and I did not even ever let them leave my desk...)
Hopefully Apple will upgrade the Beats line to be worthy...
Where is my model number on my wireless...
Where is my model number on my wireless headphones? I type in the numbers on the left side and none of them come up. Mine say made in China. Is that where they are all made? Model name is MH BTS ON SQ BT WW. FCC ID: RJE190396-00. IC: 5153A-19039600. All those #'s are on the left side.
There are $25 Fake Beats by Dre at http://www.ioffer.com/search/items/fake%20beats%20by%20dre and the real Beats by Dre are both made in China and from what I've found, by the same manufacturer. I have a white set of fake ones, and they sound 98% like the real ones..

But yes, Beats by Dre are made in China!