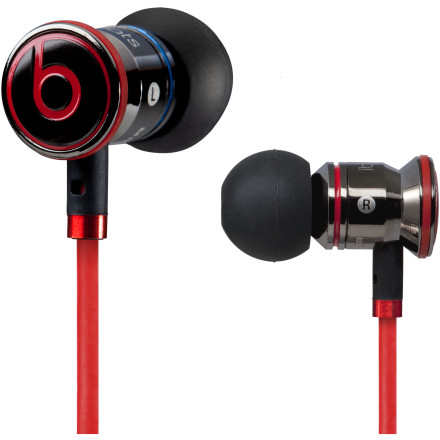 Detail Images
BeatsbyDre designed the iBeats Headphones with ControlTalk to pull big sound out of your iPod, iPhone, and iPad. ControlTalk tech lets you listen to music and still take calls through your iPhone. Solid metal housing with a hard chrome finish cuts vibrations and gives you real durability. Multiple ear tip sizes dial in a custom fit to block outside noise. The compact drivers are brilliant and clear from low basses to high trebs.
Unanswered Question
I just bought these and had a quick question...
I just bought these and had a quick question before they arrive. How "low profile" are they? I have heard that some of the Beats by Dre buds stick out of the ear pretty far. Will they comfortable fit under a helmet for skiing? Thanks
How long does the warranty last?
How long does the warranty last?
They have a lifetime warranty through Backcountry and their unprecedented return policy, subject only to your morals :)
Baddest f in headphones ever never tangle sound great worth three hundred dollars buy these headphones
are these only for iphone or any smartph...
are these only for iphone or any smartphone
they work best with the iPhone or iPad
Absolutely love all of my beats by Dre phones. These are certainly no exception. these are my go to ski/board phones I don't like the idea of bringing my 400 dollar phones out on the slopes but I'm certainly not willing to sacrifice quality. And that is where these win. Crisp audio, deep bass, clean highs, good noise canceling. The controls are easy, the sound is great, the price is right. Buy em. You wont regret it.
Nice inner-ear headphones
Im deployed in afghanistan right now.. I needed something that would be durable, i had already gone through five sets of headphones. With these, so far so good, i've had them for four months and they are still working great.. These are inner-ear headphones, so you can't compare them to outer shell.. They have really nice highs, and descent mids. They are the best inner-ear phones i've listened to, even after hearing a lot of the competing brands. If you want a lot of bass, since these have almost none; I would definitely recommend the 299.95 outer shell dre beats, i also have a pair of those along with a pair of Aerial7 tanks.. and the dre beats really blow me away- Good Luck in your choices. I would still highly recommend dre ibeats if you are wanting inner-ear headphones.
Awesome product and super fast shipping. Paid $10 for 2 day shipping and you guys have the lifetime warranty, i couldn't pass it up. Id recommend this site and these earbuds to anyone.
Great sound and super clarity through all ranges. Complete control for your ipod with the ControlTalk is a really useful feature when you like to listen to your music while doing sports. Highly recommended for music lovers.
How long does the warranty last?
How long does the warranty last?
, ☃bcs_badge_alumni_label☃
Manufacture says 1yr, but here at Dogfunk we guarantee 'em for life.

Unlimited return policy:
http://sales.liveperson.net/hc/s-9551721/cmd/kbresource/kb-7861746726736392585/view_question!PAGETYPE?sp=97&sf=101133&documentid=317668&action=view&VisitorProfile=DogFunk&MESSAGEVAR!home=no&MESSAGEVAR!cookie=yes&MESSAGEVAR!docid=317668
i wouldent buy em tho i boght them and took 8 days when i picked 2 days and they broke in less than 2 days :|
I checked the official website for these...
I checked the official website for these headphones and it listed some websites where not to buy counterfeit. This website was not listed, how do I know these aren't counterfeit?
Dogfunk is an official dealer. They are a company based out of Salt Lake and only buy product from companies that are legit.
Will this work with any other mobile that's...
Will this work with any other mobile that's not an iPhone?

Clearly the sound will, I'm concerned about ControlTalk
it will work with any thing that has a jack on it example like the iphones
Right, what I'm saying is that if this (both the headphones AND ControlTalk) will work outside an iPhone (say an android for instance).