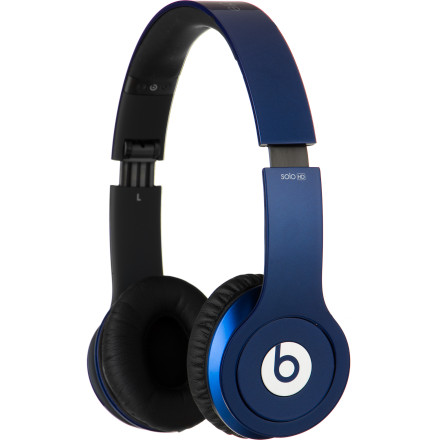 Community Images
You don't ask for much. All you want is studio-quality sound, the ability to talk on your phone hands-free ... oh, and you want to look amazing. Ok, so maybe you do ask for a lot, but that's why BeatsbyDre created the Beats Solo HD High Definition On Ear Headphone.
Monster's titanium-coated drivers give you thundering bass, full mids, and thrilling treble with clarity and accuracy
CotrolTalk lets you pickup calls from your iPhone or Blackberry, and you can use it to run your media player as well
The tri-fold design makes them great for travel; just fold them up, drop them in their hard case, and you're ready to go
Monster Cable wiring reduces noise and looks a lot better than a coat hanger
Unanswered Question
Can I use it for no matter Android, iPod...
Can I use it for no matter Android, iPod or iPhone?


awesome!!!!
Familiarity:

I gave it as a gift but have feedback to share
They were a gift and being used to the max. My husband greatly enjoys them..
they take a beatin'
Familiarity:

I've put it through the wringer
I got the green ones, i wear them at work every day. listening to them at a reasonable volume, they bump. quality sound every time they get plugged in. besides the hype, these things are the best ive ever owned!
great headphones
Gender:

Male

Familiarity:

I've put it through the wringer
I'm am VERY pleased with the Dr. Dre Beats I just purchased ! The noise cancelling qualities can't be beat ? Excellent clarity as well ! Completely satisfied, and would highly recommend these for anyone...


These are poorly built. I had mine for less than a year and I blew the speakers twice but luckily I was able to get a new pair thanks to warranty. I listen to my music at about 50% so I am not playing them to wide. Save your money and invest in another pair.
I have never heard a fuller or more solid sound. The Solo Beats by Dre provide the user with heart-stopping bass, jaw rattling treble, and delivers every other sound in between with perfection. If you're an audiophile, the Solos are worth the investment. At 200 dollars, it damn well better be.
I can only imagine the sheer audio beauty that the Pro Beats would provide.
If I wanted to waste money, all that I'd do is put it through my paper shredder, instead of going to Best Buy and getting these. I'm an audiophile, and appritiate high quality sound reproduction, so I guess you could say these headphones aren't for me. But, dont get me wrong, if all you are looking for is a cool looking pair of cans around your neck, all your friends will blindly approve of, then these are the headphones for you. trust me when I say these headphones aren't worth 200 dollars, even remotely. For a rapper can, I'd suggest the Skull Candy Mix Master Mike headphone. Which has astonishingly better sound. Even if they dont look as cool. But any person educated in the world of audio preformance, would just go for a pair of bose, seinnheiser, or any other quality pair of headphones. And not celebrity made ones... Remember all rappers care about is YOUR MONEY. So dont be decived for a second by the cool sleek look of Dr. Dre's beats. He does,t care what they sound like...

In conclusion, I'm not saying these headphones aren't fit for listening, I'm saying they aren't fit for the price tag.

Wouldn't recommend for anyone
do theese beats work with a galaxy 4.0 mp3...
do theese beats work with a galaxy 4.0 mp3 player please respond............ thanks
Personally though, I think this is a horrendous choice of headphones. A good friend of mine is a sound engineer and says that this brand is possibly the biggest ripoff in music. Mediocre to horrible sound quality for the price.
I have to agree with Jeff, I bought these, and they sound only a little better than $30 skull candies, and sadly, skull candy is the better deal by far, because they have a life time return policy, whereas beats have none (other than BC's Superb one :)). This may be more advice than you want, but I just went through 10 days of intensive research to find a headphone that did what I wanted the beats to do. Unfortunately, I was, in the end unable to find a pair of over ear headphones that backcountry carries that was up to the standards that I was looking for. I got Audio Technica ATH M50s and couldnt be happier. They are a bit more bulky, but thats because they are professional monitoring headphones, however, with the bulk comes amazing sound, lows, mids and highs. The best part though is that they're only 140 bucks :)
These are pretty sweet! I think they sound as good as the Bose on ear headphones. Nice deep base, and pretty good with other types of music as well, classical, alt rock etc. They are relatively comfortable, but after 3 hours they start to make my ears sore. The quality on these seem to be good as well, no problem with the head band so far. Best part, awesome return policy which you cant get anywhere else... never again will I buy Bose.

Alright, so after about 2 months of mild use, the right headphone has developed an incredibly annoying rattling noise, both from walking or moving around, as well as from when there is more significant base in a song. I have taken very good care of them, always stored in the padded case, never wrapping the headphone cord around them etc. I really liked the sound quality prior to this, and I am very disappointed to have to send them back.
Can anyone tell me the difference between...
Can anyone tell me the difference between these and the "Beats by Dre Beats Solo ControlTalk Headphones" on here for $116, they look the same, but I'm curious why they are so much cheaper? last years model perhaps?

Thanks in advance!
Best Answer
The main difference is these are HD, and the others are not.
These have titanium coated drivers for better sound output.
The differance in sound quality between the Solo HD and Solo are virtualy nothing , they are more expensive for the same sound.
In both sound quality...and price. I definitely understand the appeal of the sound from these, but Sennheiser and SkullCandy make some decent phones for a couple price categories down from the beats, without sacrificing too much sound quality.