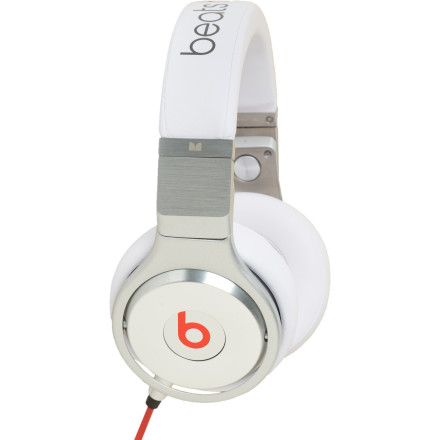 Beats by Dre Beats Pro High Performance Professional Headphones from Monster
View Larger Image
Detail Images
Description
Wash yourself in the sound.
The Beats by Dre Beats Pro High Performance Professional Headphones from Monster bring huge sound that will wash over you like a tidal wave. Super-top-secret driver technology delivers crisp sound so you can savor every note while the burly ear-cups seal you into your own virtual studio.
Proprietary driver delivers clear sound
Deep bass response runs free from superfluous circuitry that can alter the true sound
Flip-up ear-cups let you free an ear so you can check the sound in the club
Dense foam in the ear cups give you better isolation from outside noise
Tethered 1/4-inch gold-plated adapter keeps you prepped for any setup
Soft, washable ear-covers keep your ears feeling good
Unanswered Question
Do these have a rechargable battery?
NOT worth the 400 price tag
Familiarity:

I've used it once or twice and have initial impressions
Ok, first off, these have the same quality of most sub 100 dollar headsets, but sound much worse. They are NOT meant for studio work, and the consequences of doing so would be disastrous. What these ARE meant for is to take advantage of consumers who like to spend too much money to look like their favorite "gangsta" while listening to bass heavy music (and ONLY that type, ALL of the others sound like total crap on these). For 400 dollars, you can get much higher quality cans, that sound a lot better, but don't have the hype or "Street Cred" that these "offer", rather they offer "studio cred" and "audiophile approval" due to actually being designed for sound clarity and quality. So, I guess its up to you, if you want to look cool among the other kids and don't mind spending 400 bucks to do, sacrificing the quality of the sound, these are perfect. If you want something that sounds great, for around the same price, but might not make you look as cool while you enjoy your music, there are exponentially better options. Unfortunately, most of the reviews on these are NOT being done by people who know, and care about audio, and love the music, without tolerating sub-par rip offs.



Even after giving 2 pairs of these a 240 hour break-in cycle, the sound reproduction was not tolerable. Imagine listening to all of your music using a 128k highly compressed mp3, on a subwoofer, with a peizo tweeter running off of a midrange crossover, and nothing else...then you will have an idea what these sound like.
Was skeptical about spending this kind of cash on a pair of headphones but after putting them on and having an EARGASM i realized they were totally worth it! Loud as you could ever want them to be and 0 distortion... Do It for the Eargasm
Super Nice
Familiarity:

I've used it several times
I love these things, I use them in the office when I want to block out everything else and it is a nice get away whether I am listening to music to relax or to get in the zone and crank out some work. I'm nowhere near an expert, but to me they sound awesome and are pretty much exactly how I would want them to sound. The only cons are comfort (they are a bit heavy and tight so wearing them for a long period of time is tough) and price. Whether or not they are worth the $400 price tag I'm not so sure, but if you can catch these on sale and/or they are in your price range I'd definitely recommend check them out!
Honestly, Beats Pros are a decent pair of headphones. It is higher quality than a lot of in-ear headphones and you'll have (Slightly) above-average sound quality.

But for $400, I should love these headphones and the honest truth is I don't.

They are uncomfortable to wear after 2+ hours, they are WAY to heavy on the bass, and the sound quality is meh. These headphones should be priced at around $80-$100, tops. Their only pro (no pun intended) is that they look decent. Granted you will look like a total asshole wearing them in public but they look half decent to me.

And if you want to waste $400 on an average pair of headphones, please, be my guest.

But if you want high-quality, comfortable, incredibly well priced headphones, check out some Audio-Technica ATH-M50s. These are priced at $130, sound a thousand times better, are comfortable, and best of all they wont make you look like a douche bag when you wear them around on the subway.

I know Beats look cool but seriously, do you really want to spend $400 on a pair of average headphones when you could get better headphones for $130?

Beats are all hype. If you want some real headphones check out Audio-Technica, Bose Sennheiser, or Sony.
Hey if anyone has bought these and had...
Hey if anyone has bought these and had these checked by monster ? I'm just really trying to find out if they are fakes...
Best Answer
You can rest assured that Backcountry only sells products from reputable suppliers. I don't think you will find any knock-offs or fake merchandise being shipped from this site.
Mike is correct. You may check with any one of the over 1000 brands we represent. We sell only 100% authentic products/services.
Mr. Martin. You shouldn't be concerned about whether or not these kind folks carry 'genuine beats products', but do be concerned about your choice in headphones. These are grossly overpriced, and not at all in the league of other sets of headphones that are geared towards the same type of music (bass beats, rap, EDM, etc).



I realize this comment is VERY old, but I am hoping you haven't bought these yet and can save yourself from the falsehoods of 'Beats'. (or maybe another soul looking for these will read this comment and HOPEFULLY look to other options).



If you're looking for bass insanity, Sony and JVC (to name some 'mainstream brands') make far better products. Personally, I recommend the JVC HA-SZ2000, at the moment.
Real or not, they will sound like crap! Most of the people being told about "Fakes" are being told so because Monster doesn't want to admit that the headphones are simply bad, and are trying to delay the inevitable fall of a sub-par product with awesome marketing. I know its been 2 years since you posted your question, and right now MOST people know to avoid these things completely due to the fact they are crap, but I just wanted to make sure people also knew about the whole "counterfeit" claims that were being thrown around to cover up the low quality.