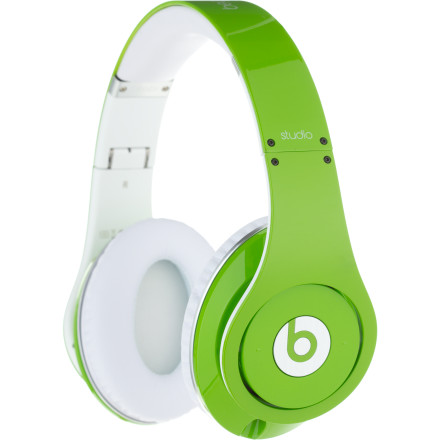 Detail Images

Community Images
Today's professional music engineers manipulate music on hundreds of levels to create the most dynamic sounds ever experienced by the human race. Beats by Dre designed the Studio High-Definition Headphones to bring you every nuanced note in brilliant clarity and with mind-blowing power.
Powered amplification takes whatever your media player has and then pumps it up with extra juice from two AAA batteries
Integrated mute button lets you power down without taking your phones off (just don't let anyone else touch it ... ever)
Internally powered noise cancellation is like being in your own private recording studio
Looks like th product was used!
Familiarity:

I've used it once or twice and have initial impressions
Batteries did not work there was a white liquid , batteries residues, where batteries are placed! Over all the product works fine! I like it did not return it!
Satisfied
Familiarity:

I gave it as a gift but have feedback to share
Very satisfied with my purchase of Beata by Dre Studio headphones. Clear, very good bass sound. Purchased for myself and as gifts. Everyone was happy with them being in their favorite color.
Unanswered Question
Are these the newer version of the Studio...
Are these the newer version of the Studio model of headphones that was released this last August?
Beats By Dr. Dre Studio Color Campaign
Sound Good but overpriced
These headphones are overpriced as you are paying for the brand but they do have great audio and are stylish.
Got a great deal on these and have not been disappointed. Great sound, great bass, and they pack down to a convenient size in the travel case. Only downside is changing the AAA batteries but great for plane rides and long road trips when you don't want to hear anything.
These suck!! I got these, had them for a month. I Found a pair of Polk 8000 headphones, WOW so much better sound!
Great Headphones
Gender:

Male

Familiarity:

I've put it through the wringer
These are some of the better headphones I have owned.Having to change the batteries can be annoying, but other then that no complaints. The sound quality is amazing and the base is even better. Definitely a great headphone overall if you are willing to spend the money.
Beats by Dre Studio high Definition headphones
1. these headphones have a lot of moving pieces to them, I can easily see myself breaking them in a couple of months. It comes with a carrying case (good move) and an extra cord.

2. They run on 2 triple AAA batteries. So If you don't like turning Off your headphones then these aren't for you. Honestly I'm plugged into a computer all day, so I can see myself tearing through batteries.

3. The sound is crisp good highs and good lows. The base is a bit much for me, but I can't hear anyone around me at work so that is a plus.

4. These are snug headphones, I can't wear them all day.


Overall- I think these are solid headphones, but for the price I feel like they should come gold plated. I really enjoy my Skullcandy Aviators, they have better sound quality and I can wear them all day without my ears hurting.
Since today is Black Friday, and they mark off products... Bye some beats for your kids or yourself. Great quality and amazing!!
Absolute crap for professional mixing...WAY too much boost in the low end...sounds like at least +6dB below 150Hz, and that's waaaaaay too much. Noise cancellation, so neither you nor your vocalist will accurately be able to hear what you are singing...too much of a boost in the high end as well, something like +4dB or more beyond 5KHz...if you want to listen to music, then that's just fine, 5/5. But if you actually want to professionally produce and mix a track and distribute it to your label owners without the embarrassment of not being able to properly mix a track, go somewhere else. Grado, Sennheiser, and Beyer-Dynamic have a LOT better in their higher end products, which are actual STUDIO headphones (for those unaware, these are professionally referred to as "Monitor Headphones", not "Studio headphones" - your first clue that the developer of Beats doesn't have a clue about true or professional audio production). To end my rant, it's a waste of money. If I wanted a pair of headphones that gave me more bass, i'd buy a $40 pair of Sony's, and I'd use the built-in EQ presets on my mp3 player.
Love these headphones. Bought them for a trip, and they were perfect.
Decent headphones, but overpriced.
Having used these before, I can honestly say that I was impressed with the sound quality. However, the price seems a bit outlandish to me. I own a pair of Aviator7 chopper headphones that were about $80 and the sound quality from those is just as good, if not better than the Beats. The build quality on the Beats is not too amazing either. The way I see it, these headphones are like Ferrari cars: you pay for the looks and the name, but you can find other brands that are less expensive that perform just as well. If you really want to spend this much on headphones, get a nice pair of Bose. But hey, they are an effective way to display your wealth.
Do these cancel noise?? How often do you...
Do these cancel noise?? How often do you have to get new batteries?
Yes they are very good with noise canceling. I would say for mine they take about every 4-5 weeks to change the batteries. I would get them.
grossly overpriced for the quality
I'm a sound engineer and have tried dozens and dozens of headphones. I'm always interesting in trying new gear to see if I can find anything to surplant my classic Sony Studio Pro MDR-V6, or Sennheisers or Audio Technica headphones.

While these are nice sounding headphones, compared to other headphones in the same price range, made by truly reputable, long running headphone makers, these fall short sound quality-wise.

On a scale of 1-10 these would rate about a 6.5 or 7. Most people are used to your run-of-the-mill department store headphones (skullcandy, sony, etc) and compared to those, these sound worlds better, however if you compared these to truly good headphones then you'd hear what you're missing. These have a good bass response but are lacking elsewhere. The bass is overwhelming and you miss a good part of the rest of the spectrum. (mids and highs) Apparently young listeners think a strong bass equates to great sound quality. They don't know what they are missing.

If bass and style is all you care about, and over spending for headphones is your thing, then go ahead and get them. If you want the best sound for the price and don't care about what your peers think then you can get better and more natural sounding headphones for less, probably half as much.

This is a good article that'll explain it more: http://audioproheadphones.blogspot.com/2011/07/headphone-popularity.html
these headphones are perfect. there isn't one single thing wrong with them in my opinion, and the sound is phenomenal. as for the price and the value, yes you can get just as good of headphones for a lot cheaper, and yes these may be a bit over priced.

as far as head phones go, these are the best.
When do you get solo beats back in...
When do you get solo beats back in stock?
Hey Jayden, get with the 24/7 live chat and ask them...
Great sound, Terrible quality
I got these a few months ago and loved them. They had great highs, mids, and lows. After a month the speaker had this deep pulsing tone to it which rendered them unusable. Also I think they are made very cheap, they feel like $100 headphones not $300. The sound is great, they are not worth the price at all.