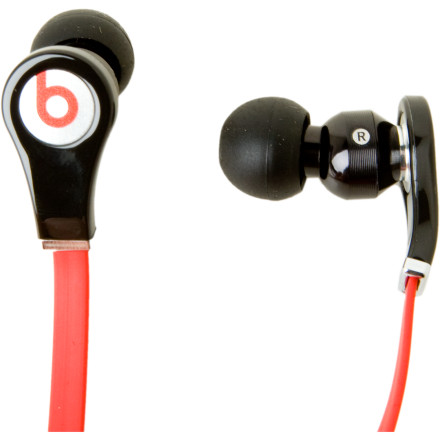 Detail Images

Community Images
BeatsbyDre designed the Tour ControlTalk Headphones to let you experience music the way the musicians intended. Whether you are pounding hip-hop, blaring rock, or ramping up with an electronic barrage, these buds bring out every note with clarity. ControlTalk technology lets you use these quality phones as a hands-free device, plus you can run your media player from them too. Lightweight, durable design makes them a shoe-in for travel.
Wack reviews or bad luck?
Because my in-ear beats have done Asia with me and I haven't had a problem.
Sound quality is good, but most people are right. For in ear headphones, if they see daily use, just get yourself some cheaper buds. These are great, don't get me wrong, but only if they see light use and not commuter use. The kind of use where you would wrap them up in the case after, instead of winding them up around your ipod and shoving them in your pocket.
One thing, though, is that the bass is stronger and fuller than your average skullcandy/WeSC/other ear buds.
Hi, I was wondering if anyone has tried...
Hi, I was wondering if anyone has tried wearing these under a skiing helmet? I was wondering if you guys have had a problem at all with the fit.



Thanks!


They don't stay put very well under my helmet, im continually readjusting them. I think, i will be buying some over the ear headphones, like the Power Beats Sport, which are the ones i should have just got in the first place.
what is the control talk technology all...
what is the control talk technology all about?
it just has a button on them somewhere so you can answer your phone without taking them off
Broke after only five months of light use. I took great care never to drop them or get them wet and the right ear bud just stopped working out of the blue. Nothing happened to it, the bud just broke on its own. Complete waste of 150$. Do yourself a favor and don't get them.
Got these, OF COURSE, because they look sick and the flat cord is amazing.

Sound quality is nothing special. I was surprised how average they sound. 40$ earbuds will do the job just as well.

They broke, of course, in like a month. The plastic is really cheap and thin, or something. I was really careful with them, too. I've never had ear buds snap... usually one ear cuts out, and that's when they go in the garbage.
Are these Brand New in box (sealed) & 100%...
Are these Brand New in box (sealed) & 100% Authentic?
Best Answer
Miguel, you can be assured that anything BC sells is authentic and in the factory packaging.