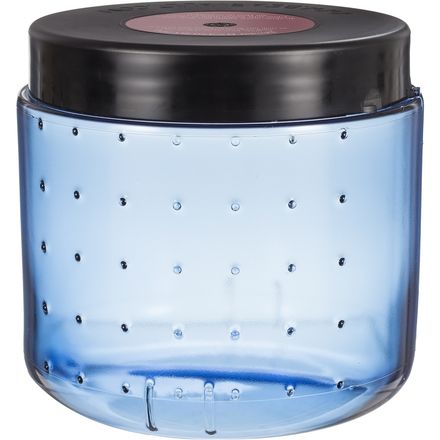 Colors

Community Images
Description
You're not food. Let's keep it that way.
Nature is great. Until you get eaten by a bear. So next time you're on a solo trip into bear country, bring along the Bear Vault BV450 Bear Resistant Food Canister. With 440 cubic inches of space, this rugged polycarbonate container keeps up to four days worth of supplies and food out of the mouth of hungry bears. An extra-wide, tool-free opening and transparent design let you quickly find the grub you're looking for. Slip this lightweight Bear Vault canister into your pack or use the handy strap-guides to attach the BV450 to the outside of your pack and enjoy a safe trip.
Solid, light, clear
Familiarity:

I've used it several times
If you've gotta protect your food - and the bears - this is a good way to do it. Rainproof, solid, fairly light.

The most common complaint about Bear Vaults is that they can be hard to open, especially in the cold. More flexible plastic at the 'push' sections of the screw top now make it simple, and I haven't needed a tool in mild freezing temps. Below that, I might still keep a coin or card handy.

How much will it hold? Depends on what you put in there. No problem with 4 days of (freeze-dried or efficiently packed) meals for one person (or 2 for 2), plus toothpaste, soap, etc. I also squeezed in 5 days of solo-packing food , but it sure was tight.
No bear nor human may enter...
Familiarity:

I've used it several times
So, I've been an enthusiast of the backcountry world for about five years now. However, it often takes me a while to make my purchases, especially on gear, because I want to make sure a)I really need it and b) I'm getting the right one. Gear can get expensive, so I've had to acquire mine over some time rather than all at once. For a while, I organized my trips in the Sierras and Sequoias around which spots had bear bins located at certain destinations so that I wouldn't have to worry about a bear canister. And on occasions where we would go somewhere that didn't have them, we would rent a bear canister from the ranger station.



Finally, I took the plunge. I've used the bear canister before, rented from the ranger station, and figured I should finally start investing in one of my own. Now here's the thing...when I've rented them in the past, someone else was always the one to open it, so I never had to actually worry about it, but I knew it was a good canister, so I went for it.



So the canister gets to my house a day before we're set to go explore a spot in southern Inyo National Park in the Sierras. I decide to try it out, and I realize I can't get the darn thing open. They've actually worked so hard to keep bears from opening it that I, too, could not get the thing to budge. I went straight to YouTube and luckily there were videos of people demonstrating. I still unfortunately couldn't manage to get it open on my own, but there was one video that showed a trick using a credit card (or something similar), and with that I was able to get it to work. So, I made sure to pack my expired blockbuster card with my camping gear.



Luckily, somehow, on the trip that followed, I had no trouble getting it open. Maybe it needed to be broken in a bit...who knows! But, I can finally manage to get it open now so I can leave my blockbuster card at home. But, it does seem like this is an issue so if you decide to get this one, know that it may be difficult at first, but should get easier and if not, there's always that expired blockbuster card.



The canister itself is great - has enough room for food for 2 people for a 2 night trip of meals, snacks, and toiletries (lightly packed). We always make sure to keep it about 100ft from our tent, just in case, but we haven't (knock on wood) had any bear troubles on any of our trips so far. And it's nice to have this on hand so that we don't have to deal with the line of people at the Ranger station in the morning waiting to rent one! It also fits nice and snug in my pack - the Ranger station often has those tall ones that make it more difficult to fit your gear, but this one is a great fit.


No cans for Bears!
Familiarity:

I've used it once or twice and have initial impressions
Can works great. Enough room for 2 to 3 people for a 1 to 2 day trip. Basically the standard bear can. I like them better than the loaner ones because they are shaped more round than cylindrical.
Bears can't get in this vault
Took this on my Yosemite trip this summer. It fit everything we needed for 2 people. That includes bug spray, cooking pot, and of course the food. The clear plastic is great for being able to spot the snack of choice. Of course it's not "easy" to open but it gets easier and using something hard when it's cold or use teamwork.
No food for boo boo bear
Familiarity:

I've used it once or twice and have initial impressions
I haven't taken this on the trail yet, but I will be taking it with me to Yosemite in early September and to the Presidential Traverse in NH in a couple weeks. The biggest problem with this canister seems to be opening it, but once you figure it out it's really easy. The soft spot to press on the lid is directly next to the stoppers and is only soft in that small specific spot. Once you find the sweet spot, it becomes a great food storage container. I was really nervous that I wouldn't be able to open it based on reviews here, but it really wasn't a problem. I'll probably be singing a different tune when trying to open in cold temperatures, though.

The container has no smell, is see-through so you can see what's in there, and has a large mouth which makes using it a lot easier compared to a narrow canister. Oh, and you can also use it as a seat - bonus! I plan on buying the larger version as well.
Great if you can open it
Familiarity:

I've used it once or twice and have initial impressions
Made the mistake of using this on Mt. Whitney. Near impossible to open when the plastic gets cold.
Can't get the darn thing open!
Familiarity:

I've used it several times
This could be a great Bear Vault. Wide mouth, clear so you can see what you have without dumping it. Nice to sit on too. But try to open it. Not so hard when you're in the comfort and warmth of your living room. Just try to open it when the temperature is dipping down into the teens and you are tired. I prefer the quarter in the slot method. At one point it took 3 people to open the thing when a plastic bag got caught in the threads! Jeez!
Yogi Proof
Familiarity:

I've used it several times
This nifty contraption stops Yogi Bear from raiding your pic-a-nic basket. Also keeps the other critters away, keeps food dry, and doubles as a handy dandy camp chair. Only downside is that it is hefty in weight and takes up a large volume in your pack. This, along with a smaller dry sack that we hung in the trees, was able to fit our food for 2 humans for just under a week.
BV450
Familiarity:

I've used it several times
Holds all I need for a few days in the back country. Works well as a seat if needed and it is nice to be able to see where your stuff is at. It is not difficult to open. Read the directions and you will be fine.
The Mini BV500
Familiarity:

I've put it through the wringer
I work as a backpacking guide in Yosemite. Sadly, bear cans are necessity with which I am very familiar. I've used the BV500 for ages, and picked up a BV450 recently for solo trips and climbing trips where I have to have a can. Much of this review is a cut and paste from my BV500 review, as the cans are identical except for size.



There are two major advantages to the BV series that makes me lean a bit toward them over other options. The lid, though not watertight or waterproof, is rainproof. If you keep the can sitting right side up in the rain (or heavy overnight condensation) then the contents will remain dry. This is not the case with the Garcia. The lid on the Garcia is recessed, and it will take on rain, leaving the contents soggy and sad in the bottom of a very small and dark kiddy pool. The frequent solution is to simply turn the Garcia over when not accessing it, which works perfectly. However, if someone forgets, or isn't familiar with this weakness of the Garcia, then you're back to the food in the kiddy pool.



The other advantage is that you do not need a tool, blade or other item for leverage to open the BV. To open the can you push, quite firmly, into the outer edges of the lid to cause two tabs on each side of the can to pass over a little squared lip, allowing the lid to be unscrewed. The Garcia requires a coin, knife, or some other implement to open. Not a big deal, but it can get old sometimes. However, if its really chilly and your hands are cold, pushing the lid in on the BV can be an exercise in sadism. Having a tool to easily open the Garcia in those circumstances can be a bonus. With that being said, if you're going to be in *cold* bear country then I'd suggest going with the Garcia.



Quick note - Bear Vault recently changed the design of the lid and made them significantly easier to open by thinning the plastic where you push. It requires far less pressure than it once did. So again, advantage goes to the BV's over the Garcia.
Good Vault.
Familiarity:

I've used it once or twice and have initial impressions
This was a saving Grace in Glacier NP. The rangers kept informing us that we had bears circling us so we stuffed snacks and dry food in the canister for backpacking and it worked great. For over night jaunts, this will hold food for two. If you are going on a longer trip, you may want to upgrade to the larger version. Very difficult to open, but hey, isn't the point?
Does what is intended...
Familiarity:

I've put it through the wringer
It is more simple than many other bear canister type products on the market and does its job well. Its a freaking bear box though so what else can be said about it?!?!



Great color?!



-NO



Great fashion sense?!



-NO



ITS A BEAR CANISTER THAT KEEPS BEARS OUT... PRRRRRFECT!



Also, I think the smaller size is best. If you pack correctly this thing is great. Dry foods and snacks and it can work for two people for sure.



(NOTE:Keep in mind I live, work, and play in Yosemite. TRUE!)
Did the Job!
Gender:

Female

Familiarity:

I've used it once or twice and have initial impressions
This was perfect for backpacking, gave us a great place to store all the food at night and fit easily into our packs. About the same size as our cookset.
Great but smaller than expected
Got this canister because it was required for back country use in Rocky Mountain Nat'l Park. Was in the back country for 4 days and the canister seemed like it would be of enough size; but after food, snacks and toiletries it was definitely packed. Glad I didn't go for 5 days.