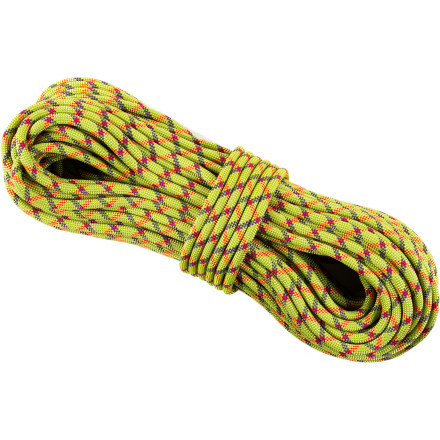 Colors

Detail Images

Community Images
Description
A moderate, all-around cord for any day on the rocks.
With easy handling, a moderate diameter, and durable Beal construction, the Edlinger 10.2mm Rope is the perfect option for those looking for a top-roping cord or an all-around rope for sport and trad routes. At 10.2mm, you get the long life of a traditional fat rope with the weight savings of new school skinny cords.
Great rope Great Price
Familiarity:

I've used it once or twice and have initial impressions
I've just started climbing outdoors and picked this rope up because of the good reviews and the reasonable price. I've used it twice for full days of top rope climbing. It's very flexible, easy to tie & handle. I don't have a ton of experience with different ropes but this one more than meets my needs as a beginning climber and seems like a really good value.


Jeff,



UIAA stands for: Union Internationale des Associations d'Alpinisme



They're an organization that establishes safety standards for climbing equipment. You'll frequently see UIAA and CE marked on climbing gear. This means they passed the criteria from those two organizations.



For this rope, the UIAA has this rope at 7.8 - 8.0 kN for impact forces.



Shoot me an email anytime you have questions!



Jared D.

Expert Gearhead

801.736.4336

jdowns@backcountry.com
I think he meant the UIAA fall rating


Poor "sheet slippage"
Familiarity:

I've used it several times
On my second day out with this rope, we took two small falls (fall factor < 0.1). I got more than an inch of "sheet slippage". I've seen "sheet slippage" before, but not before at least one year of weekly usage. I'll never get a Beal rope again. If "sheet slippage" is highly variable, at least stay away from the "batch number" M02R157111 (listed on the tag attached to the rope).
Happily Ever After
Familiarity:

I've put it through the wringer
The 10.2mm has been extremely great. It makes me comfortable knowing that you can take some pretty large falls yet you don't have to worry about the rope being compromised. (Always do a thorough check after a fall though.) I love the color of this rope and I love having a 70m rope so you can virtually climb anything in Utah. You can get to a Multi-Pitch and know you're not going to have problem ascending the entire climb. I love the weight of this rope. Being only 65g it is easy to carry around wherever you are adventuring to. It doesn't get very much sand, dirt or grime attached to it and is extremely easy to keep clean and clean when it ha gotten dirty. I'll be living happily ever after with this rope. (Until I need a new one.) :)



Cheers
Great entry Level
Familiarity:

I've put it through the wringer
Cheap Price point makes this a go to for a good beginner level rope. Don't expect anything fancy however, this rope is not dry treated so it does get dirty pretty quick. Only major problem is that after 2 months of use, it developed kinks while belaying and flaking.
initial impressions.
Familiarity:

I've used it once or twice and have initial impressions
Just got this rope, and so far it feels very good. It is very soft and feeds easily through my gear. It feels skinnier than a 10.2 rope.

Will update after I've put a few climbs on it.
I bought this as a gym rope, cut it in...
I bought this as a gym rope, cut it in half, and then hurt my shoulder so have barely used it. I have a trip to Zion coming up and was told I need 60 feet of 9 mm static rope for rapelling (not climbing). I'm wondering if this would be a decent choice, or if they thickness plus lack of dry treatment will make it way too heavy. Suggestions?
Best Answer
Well, 35m of this rope is about a 100ft so on length you should be fine. The thickness will only really be a detriment to you in that it is a tad heavier per meter than a 9mm line. The lack of dry treatment shouldn't be an issues unless you are using it for canyoneering with mandatory rappels into pools. If you are just rapping and then swimming I'd just toss it into a dry bag between raps. If it is going to be getting wet then yeah that rope may get heavy. That being said if it was me and I had the rope laying around and just needed it for this trip I'd use your cut 35m half rather than buy a new rope. But then again I do like buying gear... hahahha
I have had this rope about a year and from weekend shelf trips to afternoon trad missions in Boulder canyon to projecting routes in the park it has faired well under moderate to heavy usage. Dynamic enough to boost your leading confidence with the soft catches, sturdy enough so that everyone in your group can lap the TR you just set up at the creek, without losing 6 ft of progress every time they rest. The thicker diameter ensures that your sheathing will show signs of use far before the performance of your rope, this is typically my go to rope.



Solid workhorse, great moderate to entry level rope for any aspiring all rounder
Great Rope
Gender:

Male

Familiarity:

I've put it through the wringer
I am climbing for 20 years and this one is my third one, I have some other rope but this one I likes the best. I had big fall on it 24 fite or more.

Great rope!
Would this be a good rope for tree climbing?...
Would this be a good rope for tree climbing? Does it work with the grigri 2?
As for the grigri2, it definitely works.

I'm no expert on tree climbing, but I think this rope would fit your needs. It is very resistant but just in case you should throw a webbing over it to protect from sharp wood.
Best Answer
If you're jugging up ropes into trees, look for a static line. Trust me, jugging on a dynamic rope drains you pretty quickly.
Have owned 6 ropes. Beal is one of my top choices. This one has again not disappointed. Only used a few times so far but so far so good. Researched others before buying and this was the best deal on a good rope.
Corona Arch Swing - Moab, UT 2-24-2012
This is a great rope and it has treated me well for climbing. I have used it for Top Roping, and lead climbing both sport and trad. I've never had any hard falls on it but have had lots of soft falls. All in all I have loved this rope and would buy it again! I recently put it to use in another sport... Swinging!

Here is my disclaimer: I know I'm going to get some guff about this video from other climbers because the just don't understand the precausions and experience that I and the others who helped set it up have and haven't been apart of the setup so they didn't see what went into setting up the swing. I've been climbing for 6+ years and canyoneering for 4+ years and I know my knots. It took us 3 hours to set up and we even did some testing to make sure it was safe. This setup we did for the swing is safe and I'd do it again in a heartbeat! We used multiple anchor points and redundancies and lots of webbing, all screwlock carabiners, clean/pretty knots, 2 dynamic ropes (1 was brand new), and had a 25ft garden hose on both ropes to protect the ropes from rubbing on the rock. They way it is set up there is a nice swing with no hard fall factors so it is easy on the ropes. Nobody got hurt and everyone had a great time, and I'm sure if you were there you would have given the green light too. We had 5 experienced climbers and 3 experienced canyoneers help set it up and I'm sure it was safer than lead sport climbing. Enjoy the video! ;)
Good for what it does. Recommend for anyone just gettin' going.
This rope has caught me...a lot!
Honestly, what more do you want from a rope - good amount of elongation (though 9.6-9.9s seem to be 'softer' on big sport falls), and tough/thick enough to not worry about setting up some rough topropes or lowering off some sharp things - had this rope about 2 years now on british and spanish limestone, california granite and volcanic and in the gym, and after checking it recently, it shows practically no wear - tough workhorse that is light enough to use as a sport cragging rope - maybe too heavy for those 'serious' redpoint attempts, but c'mon, I'd be flattering myself if I thought a few ounces of rope would make the sending difference - bottom line...good rope for the dough!
I've been bouldering for a while and I am...
I've been bouldering for a while and I am now starting to get into trad and sport climbing. Would this be a good rope to start with?
Best Answer
Absolutely.

With all the rope tech out there, it can get a bit overwhelming. All you really need for beginner trad and sport is a 10+mm rope that's at least 60m in length. From there, everything is gravy.

Once you become more experienced, you may find that you prefer your rope to handle a certain way - stiff or supple - or that you want your rope to be lighter. You may also find that ropes that tell you where the center is, via a mark or a weave change, are handy.
This was my first rope I ever bought and I bought it a few years ago. It is low priced and works great! I haven't had any complaints about the rope. It is well made and works how it should! This is a great rope to buy if you don't want to blow a bunch of money on a quality rope! I will buy another one when the time comes to replace my current one.
It's not the lightest rope, and it's a bit stiff and stubborn at first, but it's great for gym climbing, top roping, and beginning leading, which is what I've been using it for. Good hand and catches comfortably.
The Edlinger is a solid "day at the crag" kind of rope. It's 35% dynamic feature allows it to catch falls quite well. I personally i have taken a couple of nasty whippers on mine and have found it to have a very soft catch. While not your light weight, super thin, water proof, super amazing rope, I have found the Edlinger to be a solid all arounder. And for such a price, who could ask for more?