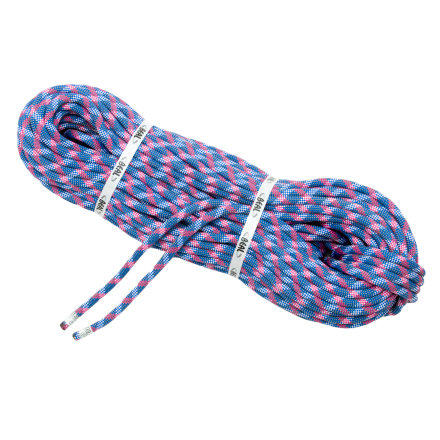 Detail Images

Community Images
Beal designed the Edlinger 10.2mm Golden Dry Rope as a workhorse line for rock climbers whether they like to clip bolts or sew up cracks. A Golden Dry treatment keeps this line from getting saturated if it rains, and it reduces the friction that decreases longevity. Beal also added a center mark to make it easy to set up rappels and reduce the chances of an accident.
I bought this as my first rope and I couldn't be happier. Other than the very first time I uncoiled and ran it through my belay device, it has been completely kink free. It runs very smooth and has a good solid feel to it. I debated for a while on whether or not to spend the extra cash for the golden try treatment. I told myself "I'll never climb in the rain, why bother?" I ended up getting it for durability sake and am glad I did cause the very first time I ever tied into it I was tiptoeing around puddles of water in a steady drizzle. Point being, get the dry, it's worth it.
the golden dry is worth the little extra $
ive had this rope for 2 seasons now - its held up amazingly through sharp corners and gear and belay devices. catches are very progressive and soft. and its a very manageable weight for being a mid-diameter 70m rope.

GET A ROPE BAG!! or at least a tarp. it will prolong your ropes life and prevent knots

one gripe: ive only seen my center mark once... and that was when i wasnt even looking for it.

picture is after a year and a half of climbing in 9 states. and most of that dirtyness is just aluminum from running through gear.
Awesome Rope, feels great
This rope handles better than any 10.2 I've ever felt. It's super smooth, but grips nicely in a belay device. Not kinky, dry treated, feels great, looks great, and at a great price. Literally the best rope I've ever used.
This rope is awesome, very smooth rope and all my friends love it. Many think it's the best rope they've used. Get it.
I have a question: The year of manufacfture?...
I have a question: The year of manufacfture? Thanks!!!
, ☃bcs_badge_alumni_label☃
These are the 2010 model.
Beal Edlinger 10.2mm Golden Dry Rope
I finally broke down and bought my first rope after reading a lot of reviews. I have used this rope the past three weeks and have been pleased. It is well worth the price and it is a dry rope. It feeds through my belay device very smoothly. I haven't taken any falls on it yet. Also climbing on it for three weeks the sheath looks as new as the day I got it. Well worth the money.
Great rope, well worth the money
I've had this rope for a little over a year, used it ice-climbing, long trad, boundering, this rope does it all.

It's still nice and supple, although I've only taken one lead fall on it so fall. plus some hand dogging.
supple feel, great price, good weight. I would definitely recommend.
I want to learn to repell but I weigh in...
I want to learn to repell but I weigh in at about 300lbs. What type of rope do I need to safely do this?
Best Answer
No rope is going to fail on you, but you must account for your weight, or if you slipped, and sharp edges on the rope, etc....
For rappelling ONLY, a static (non-dynamic rope is HIGHLY suggested)
I would suggest anything over >10 mm. And I would suggest a Sterling Rope if you want the best, but price may be a factor and Sterling isn't the cheapest (i.e. depends how much you plan to use it, but also remember you're hanging your life on it; used by rescue crews and awesome climbers around the world)

So for example, a Sterling HTP Polyester Static Rope (for rappelling ONLY; see sterlingrope.com for catalog), or for any chance of climbing a bit on belay or chance of a fall, I suggest Sterling Marathon Sport Rope - 10.4mm. I have this rope. (but remember that your 300 lbs will stretch a dynamic rope out like a rubber band and there is potential for the rope to go shooting out your rappel causing a catastrophe when you (or anyone) gets toward the lower portion of a rappel...

No climbing? STATIC ROPE ONLY PLEASE.
You'll want a full body harness and have a rappel device with adjustable friction

You didn't say what type of rappelling, caving? Canyoneering or ?

But you'll need a STATIC rope for rappelling only

The only rope here is the Sterling which is "semi" Static IMO

Bluewater KMIII is a good inexpensive static rope.
PS. I FULLY agree with Matt's answer about the body harness...you can just add a chest harness to a regular seat harness, too. It will keep you upright at ALL times.
You can get that stuff here, but the rope may need to come from another place (i.e. Sterling)...(try googling "sterling shorts" if you want a cheaper shorter rope...)
Good luck, GO STATIC...
I don't know what to look for in a rope....
I don't know what to look for in a rope. I boulder all the time and now I want to do something a little different. I want to start off with some top roping outdoors then do some sport climbing. What size rope and what size should I look for?
I'd suggest you go for a 10mm or bigger diameter rope, and the more UIAA falls, the better. If you're only using it for TR and then starting sport climbing later, having the added durability of a slightly larger diameter rope will serve you well. Once you progress and start working harder sport routes, then consider getting a smaller rope. For now, get something that you can use for a good while without worrying too much about having to retire it. Also, dry ropes add a premium to the cost - if you're not planning on doing any climbing in wet conditions (i.e. a sunny weekend warrior type), I'd even shy away from that feature. That being said, it is a nice to have just in case.
This is an Awesome rope for what you wana do. very good price but like he said if you dont plan on climbing in wet conditions i would recomend the Beal Edlinger 10.2mm standard rope. its cheaper and still a really good rope
I want to learn to repell but I weigh in at about 300lbs. What type of rope do I need to safely do this?
Don't have much to say, good weight, smooth, and although I haven't gotten it wet yet it's nice security. Would recommend to a friend.
Awesome Price for a high quality rope