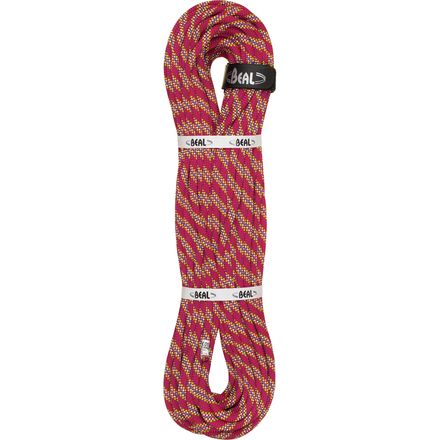 Description
The ideal balance between strength and lightness.
From multi-pitch adventures in the Dolomites to snow-covered alpine peaks, turn to the Beal Cobra II Golden Dry Climbing Rope for your half rope needs. The Golden Dry technology individually coats each fiber in the sheath and core with a polymer prior to braiding for maximum water resistance, and the ultra-low impact force of 5.1 KN minimizes stress on anchor points.

Golden Dry technology coats each sheath and core fiber with a polymer treatment prior to braiding for maximum resistance to water, humidity, and dirt
Unicore construction bonds the sheath to the core to eliminate sheath slippage in wet conditions or when the sheath is accidentally severed
8.6mm diameter provides an ideal combination of low weight, strength, and durability
Low weight of 48 grams per meter won't hold you back on fast-and-light alpine dashes
Guaranteed low impact force rating of 5.1KN minimizes anchor-point loading and ensures a soft catch
18-20 UIAA fall rating ensures many days of reliable use in the mountains
Exceeds expectations
Gender:

Male

Familiarity:

I've put it through the wringer
Lately my climbs have been getting longer, with that, so have the rappels. After using a single rope all summer I am stoked on my half ropes. First, you get less weight to haul. No longer does one person need to carry the rope weight, you can split it between you and your partner. Second, you can create a more direct line of protection. If your trad line has opposing cracks that create a zig zag, you can limit the direction of pull on your pieces by clipping one rope into one crack and the other rope on the other crack. In addition to less pressure on your protection, this will cut down on rope drag. Third, instead of that sketchy down climb in the scary loose gully, you get to breeze down the cliff or tower in 60m rappels. This option is especially useful for those taking on desert towers. My consensus is that half ropes are the way to take on large projects or towers! I Chose Beal because their ropes always have the longest life.
This video shows how Unicore increases the safety of a climbing rope.
These are described here as twin ropes...
These are described here as twin ropes with a 5.1Kn impact force. But the ropes are marked as double ropes, not twins (I just received these from Backcountry), and on further investigation the 5.1Kn impact rating seems to be for use as double ropes, not twins. The impact force when used as twins appears to be higher. What light can you shed on this issue? I plan to use these as twins and don't want to do so if the impact force when used as twins isn't as advertised (I do a lot of adventure climbing on suspect rock). Please advise, many thanks.
Hey Tom,



Thanks for pointing our our error. This rope is a half or double rope and is not a twin. All specs are based on this discrepancy which I will be sure to have changed promptly. Sorry for that inconvenience.