Gear Review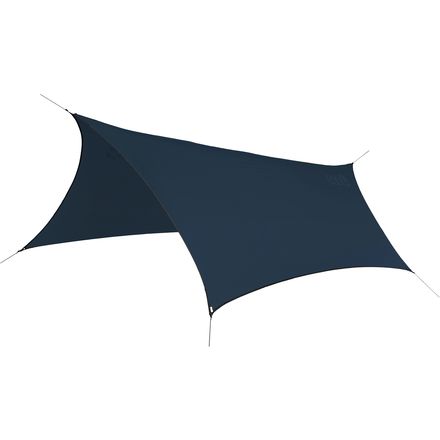 for the ProFly www.eaglesnestoutfittersinc.com (the manufacturer's website) lists the weight as 22 ounces and the dimensions 10'6" x 6'4". these numbers differ from the ones backcountry.com has listed...the weight not so much but the dimensions are off by 120 square inches (per the manufacturer and the measurements i just took off the one in my gear closet)!

i bought this fly once before (for a hammock i borrowed from a buddy who did not have it) and i returned it. $85 is a lot to pay for something you could make a pretty good version of yourself for the cost of a tarp from your local megastore...although the profly compresses smaller. After i returned it, i just ended up adding 2 loops to the 3man tent footprint that i already have and using it instead. it just so happened that my tent footprint had adequate dimensions. that was a much lighter weight option, and it was essentially free since i already had the footprint. the footprint does not function as a wind break quite as well as the profly, but it was much much much lighter and cheaper.

i will say that this is a good tarp to use on its own as a shelter if that is your thing...i have done it a couple times. I will continue to use my modified tent footprint as a rainfly for my hammock until cold weather hits and that little extra bit of wind protection is needed.

I ended up getting the ProFly again as part of the ENO onelink hammock system when i bought one for myself (for $159 it came with singlenest hammock, profly, bug netting, and PRO slapstraps). I am glad i have it for when i need it, but if the system did not come with it, i dont think i would pay full retail for it again. If you are ballin' on a budget, there are probably better options with something you already have or could make for cheaper. if not, its cool to have the matching set and not some generic tarp hanging up as people walk by your site. But I am not trying to win any awards from "stylish backpacker monthly." ha!

3/5 stars because it works well, but its expensive and tips the scales a bit.
View More Details on Eagles Nest Outfitters ProFly Rain Tarp