Gear Review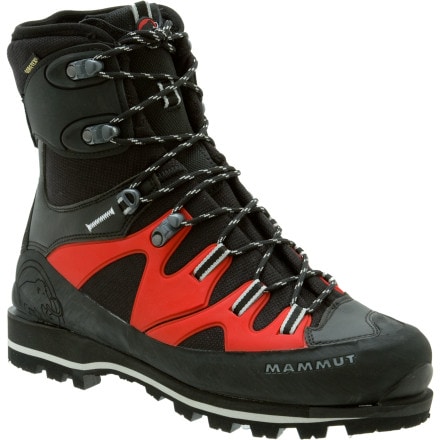 Posted on
great boots but rubbing my shins - any advice?
I got these to replace a pair of Scarpa Mont Blancs, which were killing my heels, so that's my basis for comparison. Just had my first trip in these - 9 miles, 11 hours, 5000 ft elevation gain, off-trail, mostly class 2/3 granite, some firm snow, 25 pound pack, no crampons. Temperatures were 15-25 F. My usual shoe size is 11-11.5 and the boots are 13; worn with polypro liners and thick wool socks. For the most part, I like these a lot better than Scarpas. First the good news and then a problem and request for advice.

Walking:
The Mamooks feel much closer to a regular backpacking boot - lighter, more precise, more agile, more comfortable. You can walk on trail or rock for a long time without feeling like you are walking in a cast. The ankle has enough flexibility so you can walk with a normal gait if you don't lace them tight. The rockered sole and lower weight help as well. I had some heel lift but not too bad. The larger size of the boots means that the heels went up and down a bit but without grinding against the back of the boot so no blisters or even hot spots. I'd much rather walk in lightweight hikers of course, but Mamooks are not nearly as clunky or as painful as the Mont Blancs.

Climbing:
One of the things I hated the most about the Mont Blancs is how unwieldy they were on rock. Too bulky to edge, too stiff to smear, to wide to fit in cracks, and the sole too slippery on top of this. Mamooks are the opposite - stickier sole and more flexible ankle makes for better smearing, they edge with a lot more precision, and the narrower toes fit much better into cracks. The sole is sticky enough to walk up 45-50 degree granite slaps and still feeling solid; this would be out of the question with the Mont Blancs. I felt much better climbing in these.

Size and shape:
I have wide feet, which is why I got Scarpas before. I don't know how Mammut managed this, but the Mamook toebox is narrow on the outside but wide on the inside. I don't get any pressure from the sides, and at the same time the front of my toes never touch the boot even if I kick a wall several times in a row. This is really great for downhill hiking and scrambling and for kicking steps in hard snow. Should be great for front-pointing on ice, too, but I have not tried that yet. I was glad I got size 13 (I normally wear 11.11.5; my Mont Blancs were 12.5 and too tight). This gives me enough room in the toes and less pressure on the heels.

Now the problem. On this relatively short trip, the folds of the tongue gusset were rubbing both of my feet on both the inside and the outside of my anklebone. Lacing them tighter or looser did not help - that fold happens to be in exactly the wrong place. Despite the very thick wool sock and the liner, all four spots got rubbed just short of blisters - still painful to touch several days later. On a longer trip, this would be bad.

Has anyone experienced similar problem with these or other boots? Any advice? I need to find a solution for this or I'll be looking for a yet another pair of boots...

So 3 stars because of this problem, but otherwise really nice boots. I'll revise the rating if I can fix the ankle issue.
View More Details on Mammut Mamook GTX Boot - Men's