Gear Review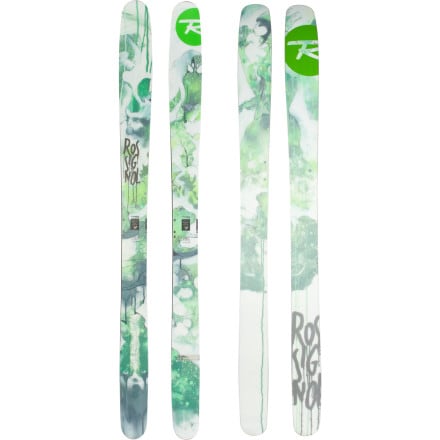 eh
Member since
Posted on
I was sort of forced to get these after my Rossi phantom rc112 came apart on me, and at first I have to say I wasn't happy about it. I was told at the time that these would be an adequate replacement because they are much stiffer than the S7, and would be more similar to my past skis. These are stiffer than the S7, but not close to the stiffness of the Phantom RC112 (Rossi: please bring those back to us). With the titanium sheet they put in the middle of this, it makes the ski stiffer in the middle between the early rise in the tip and tail, but the Fiberglass in the tip and tail doesn't keep them stiff enough to help with the tip flopping around at higher speeds reducing the edge contact you have with the snow when the tip bounces around. This is only a problem on firm snow or groomers, not a problem for fresh or slightly tracked powder. Those are the conditions this was built for. The fat tip with the slightly narrower tail gives you a nice tip floaty feeling. Tip stays up, so even at slower speeds in deep snow you feel in control and know that your tip isn't going to take a dive. I wouldn't recommend them if you are looking for a one quiver, but a fun powder ski that has a user friendly shape like the S7, but stiffened up making it more versatile for a more advanced skier. There are many specialized weapons out there designed specifically to be playful, or slay high speed chutes, or drop 100ft off a rock. I would say these skis are not the best choice for any of one of those, but a great choice for a bit of all of them. The jack of all trades that you can take on a heli trip, flip around in the trees, general tom foolery on the mountain putting a smile on your face.

Anyone looking for binding advice I have run them with jesters for about a year and would recommend that if you got them and are looking for a binding. I have used them with the FKS and didn't like it quite as much. The jester has a wider stance which feels a lot better and more controlled for a wider ski, plus it looks better than the FKS once mounted, so extra style points there.

On sizing I am 6' 200lbs and went with the 188. Great size for anyone even slightly close to that. They come up pretty good in the tip and tail so they ski shorter, but a nice playful size in softer snow. I would recommend anyone around my size go with the 195 though. You have much more ski to work with, and it won't feel as long as you expect it to. The 188 is great for more of a playful ski that I can throw around when I know I'm going to get in some tighter spots in the trees which is what I got them specifically for. For a more big mountain bomber, or open bowl cruiser go with the 195.
View More Details on Rossignol 2011/2012 Super 7 Ski