Gear Review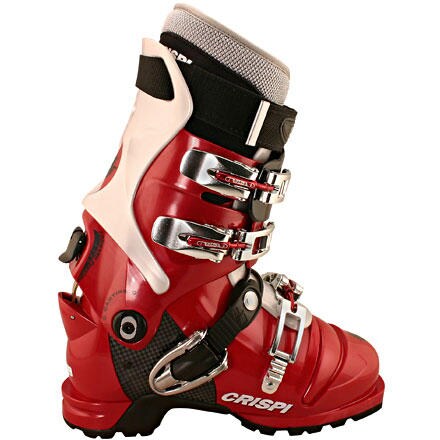 I've tried a couple of the other 'freeride' oriented AT boots out there and Crispi has hit the nail on the head with this one and blown the others out of the water. Well, you have to qualify that statement of course: every boot is only right for the foot that it fits.

Performance: I've taken these on two short day tours, both involving 2-3 hours of climbing followed by a long big-mountain style descent. The Diablos have an exceptionally comfortable walk mode. Tons of flex and they just feel great. They are lightweight for a 'freeride' boot and while not as light as some, they are much lighter than any alpine boot. Lock these things forward into the most-aggressive forward lean position, snap down the ski mode, and you've got a serious boot that contends with alpine boots for stability and confidence while skiing. I felt confident making turns as big as I do at Snowbird's Upper Cirque on these things (i.e., 40m radius turns).

Fit: Medium. The forefoot/toebox is pretty wide, but you can reduce the volume with the buckle over your arch. The heel pocket is nice and tight though. I have a narrow foot, so most AT boots are too wide for me, but this one has worked better than any I've tried (Garmont, Scarpa). The liner has a plush inner lining, and is super comfortable. It molds easily once heated. It does seem to pack out rather easily however.
View More Details on Crispi Diablo Free Ride AT Ski Boot