Gear Review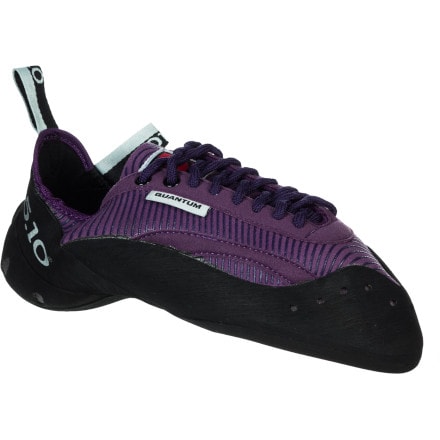 I don't give 5 stars to gear often unless it's really deserving, but the 5.10 Quantum deserves the 5/5.
Based on the popular 5.10 Anasazi, the Quantum adds a downturned profile, low volume heel cup and the amazingly sticky and tactile Stealth Mystique to it's previous popular design. These shoes are freaking weapons. I've climbed on them for a few weeks now and I have really nothing but praise for them. The aggressive turn of the shoe make tackling overhanging and technical routes a breeze, and they edge like a fiend on slab and tiny little features. They even jam in cracks relatively well. I haven't put these through a maneuver yet where I was left wanting more out of a shoe.
The Mystique rubber is some of the stickiest and best tactile transmitting rubber I've ever felt (I prefer it over the Onyx rubber as to which one is "better") so I always can feel what my feet are doing on the rock without having to guess.
Comfort-wise, I find that these are very easy to leave on for hours without having to take them off or even untie (your climbing partner will be happy if you're one of those knuckle draggers who takes your shoes off after every climb). For fit, I had to size up 1.5-2 from my street shoe and they are snug, but not painful (very important as these will not really stretch much at all). I have absurdly wide feet though, so you probably will be able to get away with less.
If i had to say something negative about the shoe, and I'm really nit picking here, is that the heel cup rubs on the back of my achilles and starts to get annoying after a while. This happens with most of the other 5.10s I've had though and gets better after a few weeks of climbing in them. It's just the way my foot is shaped. I put a small piece of climbing tape over the lip of the heel and it ceases to be a problem.
These are my new go-to shoe for general cragging and gym climbing. Wicked precise and sticky, the quantums have really made an impression on me of what a good shoe can do for your climbing; dare I say...give it a "quantum leap?" ;) A perfect shoe for those looking for a more technical shoe to supplement their first basic pair, or the seasoned climber who's been sending projects for years.

Try them if your looking for a more aggressive all-rounder, you won't be disappointed.
View More Details on Five Ten Quantum Climbing Shoe - 2013