Gear Review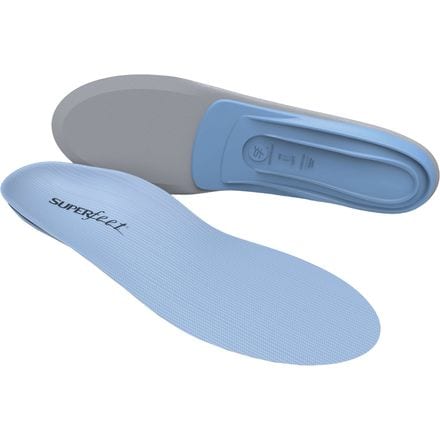 I've used blue Superfeet in several pairs of Montrail shoes, including Continental Divides and Mountain Masochist GTX. You should absolutely have these professionally fitted, because these can do more harm than good if they are the wrong size.

After a break in period, I noticed considerably less foot fatigue and better overall posture. I was on my feet on a concrete floor for 8+ hours a day, and go home to take my shoes off, having felt like I was sitting all day. On the trail they do the same. The stability and support they give your feet is fantastic, maximizing the performance of your footwear.

I initially used orange Superfeet in my trail running shoes, but I noticed with several pairs of my orange Superfeet in Montrail shoes that my heel would start to rub my socks in a way that I had never experiences before. After almost a year of this, I tried blue Superfeet in the same shoes. The lower profile of the blue allowed my foot to sit properly in the heel cup, stopping the rubbing issue. While I miss the cushion of the orange in the forefoot, the better fit in the heel cup is well worth it. While superfeet does design each insole for a specific purpose, don't be afraid to try different ones. A different color may work better for you.

I just finished hiking the Long Trail in Vermont with these insoles, and know that they drastically helped my feet out on the trail. Averaging 12-15 miles a day with a 25-30 pound load will take its toll on your feet, but the Superfeet offered great support to keep foot fatigue to a minimum.
View More Details on Superfeet Trim-To-Fit Blue Insole