Gear Review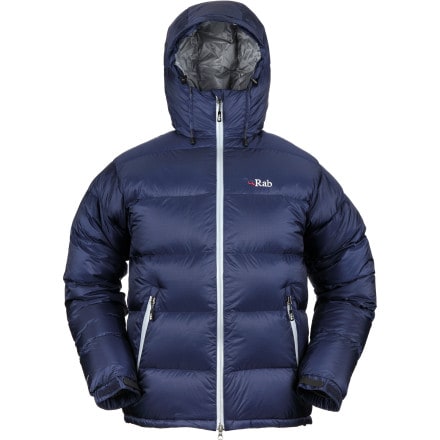 Posted on
Why you should buy this coat now! Perfection!
I went into this purchase not knowing anything about the RAB brand. My local outfitter store have been eagerly pushing this British company's clothing recently as a good replacement for North Face gear that no one is really buying anymore. Although I tried on a few RAB down coats at the store, I went with what I knew and purchased a Patagonia Fitz Roy Down Hoody online to replace my prematurely retired Marmot Ama Dablam down from the 2010/2011 season. The Fitz Roy, at 646 grams, disappointed me in every way possible that a $300 down hoody could. I returned it and got this Neutrino Endurance which turned out to be a superior upgrade at a lower sale price.

First of all everyone will ask if it is warm so I will start by saying it is. 800 fill ONLY refers to the quality of down used but the Neutrino Endurance, at 626 grams, is well lofted with 225 grams of down. Now that calculates into healthy warm-to-weight ratio!

In contrast, the 595 gram Marmot Ama Dablam which I had last year was also 800 down fill quality but was barely stuffed with down and not as warm. And if you somehow find the Rab Neutrino Endurance to be not warm enough for you then RAB has the Neutrino Plus which is the same jacket but cut longer and wider at 760 grams and has 275 grams of heat generating 800 fill goose down stuffed into it's baffles.

The next question for the Rab Endurance would be is it durable or weatherproof?

The Neutrino takes care of that by using a weatherproof Pertex Endurance outer shell fabric to ensure durability. NOTE: The fabric is 100% windproof/99.9% waterproof but the jacket is not 100% waterproof because it is not taped at the seams. There is some popular confusion on this but the general fact of windproof fabrics is that they are also waterproof fabrics but when used on windproof-only gear, unless taped at the seams, that gear is not waterproof.

On the Endurance RAB has also waterproofed all the zipper tracks-something I've never seen on any other down jacket before.
Before I continue I understand folks may also be looking at the Patagonia Fitz Roy Down Hoody ($299), The Marmot Ama Dablam ($229), or any of the similar Mountain Hardwear/North Face Hooded Down Jackets. I've worn those jackets so I will compare them briefly in each pro/con listed below to show why the Rab Neutrino Endurance is 1000% better than those current best selling jackets.

PROS-

1. Tailoring and Fit- This was important to me because I don't want to look like the Michelin Man nor do I want to be freezing. The Neutrino Endurance solves this often overlooked design challenge. The stitch thru down baffles are cut small and tight but are all densely packed so there is a firm loft instead of loose bulky loft. The Patagonia and Marmot Jackets both have bigger baffles. However, the Ama has low loft in it's big loose cut baffles so it fits relaxed like a big t-shirt. Where as the Fitz Roy Hoody has substantial loft in it's baffles but is also designed around it's big loft to fit like a big droopy sweater. The Neutrino, by sharp contrast, feels tailored and my 5'8" 155 lb frame fits the size Medium as if it was tailored by Brooks Brothers. The rear hemline also drops slightly over the butt and cinches cleanly at the sides to provide extra coverage.

2. Outer Shell- It is a crispy Pertex Endurance nylon. Again I will note: The jacket is not waterproof because the seams aren't taped however the Pertex Endurance as a raw fabric on it's own is rated at 1000mm water column and is highly water resistant. So under normal usage with the DWR treatment it is the closest you can get to 100% waterproof without being 100% waterproof. The inside lining also has the same crisp feel and is Pertex Quantum so there will be no feathers leaking inside or outside the jacket. The Ama Dablam, by contrast, has a silky soft outer shell and even softer nylon lining. Although the Ama didn't have any noticble down leaking my jacket did get lots of fabric pulls and shredding lines from mild contact with the garden bushes around my front door. The Ama Dablam shell also got wet from snow melt quicker than other down jackets that I've worn. The Patagonia Fitz hoody was not much better than the Ama though the Fitz Roy hoody's DWR treatment was far superior than the Ama Dablam.

3. Zippers and Cuff- The zippers on the Neutrino Endurance are all on firm waterproofed tracks and consists glove friendly pull tabs. Even the inside pocket has a fancy zipper track. My biggest gripe with all Patagonia down jackets are the cuffs consists of a cheap elastic cord stitched inside the outer shell's nylon fabric or inside a cloth band. If you owned a Patagonia down jacket for more than a season you will back me up when I say it is always prone to eventual fraying and getting dirty from normal wear and the Fitz Roy is no exception. Rab, however, uses a hydrophobic hypalon/rubberized lash and Velcro clasp on a durable 0.85 inch wide elastic band to seal in warmth at the cuffs. Marmot uses an extension lash of the soft nylon shell with velcro to cinch the cuff on the Ama which is good but the nylon is not as hydrophobic or durable as hypalon/rubber so it stays wet from contact with snow and wears fast. The Fitz Roy had the worse zippers I've ever seen on a $300 down coat. The tracks were wispy thin and flimsy and zipper head was tiny. I got many zipper snags on that coat. The Neutrino Endurance erases this prehistoric issue by using the waterproof zipper tracks.

4. Warmth and Loft- The Neutrino is very warm for the loft and you will not have to worry about cold spots or feeling cold at all. The inner lining is Pertex Quantum that some how helps retain body heat. Most down jackets skimp on the inner wall fabric and insert some sort of cheap nylon in there to cut down on costs and/or weight but the Rab uses Pertex Quantum lining which makes the coat lighter, more durable and warmer for the given down weight.

5. Hood- I must praise Rab's hood design. Much like the well loved Fitz Roy Down hood, the Neutrino's hood is well lofted with down and designed to FIT OVER A HELMET. But unlike the Fitz Roy the Neutrino's hood has a stow away strap to keep the hood out of the way when not in use. Rab uses a wire flex brim and front cinch system that cinches the hood down on your face. The Fitz Roy hood only cinches at the back to pull the hood back away from the face and improve lateral visibility. This is good since the Fitz has a huge lofty hood that will cover your entire head if left untamed but the Neutrino is "designed" to not need a lateral cinch system. Meaning the hood will not impede lateral vision but will still hug and protect your head and face. Marmot's Ama Dablam loftless hood is a joke by any comparison.

6. Ease of wear - There is a reason Mountaineers no longer hike up with Shearling Leather Coats anymore. Those old school coats were warm but heavy and hard to wear comfortably. Lofty down coats are by nature supposed to be the heaviest and hardest to wear things in your wardrobe. Contrary to this, the Rab has to be easiest to wear coat in the category of lofty down hooded coats. At 1 lb 6 oz it feels light on your back and has a normal non-bulky fit so it is easy to layer underneath it or wear it as a layer under a waterproof shell. The hood ties away when not needed. The dual two way belay zipper system adds extra option of ventilation or comfort during belaying or light cold weather hiking with a backpack on. It also makes it easy to access pockets of your base layers or hip pack underneath without having to unzip your entire jacket. The neck baffles and chin guard are not intrusive at all. The Rab feels just as comfortable zipped down as it is zipped up. My Fitz Roy would hang off me awkward and lopsided when it was zipped down because the nylon fabrics holding the down together was too soft and pliant. Also the Fitz Roy does not have a belay zipper which is one of the reasons I returned it.

CONS:

Only one con that I could find-

1. The two Hand Pockets and the "other Pocket"- They are not hand warming pockets (meaning they are not fleece lined) like on the Patagonia Fitz Roy Down Hoody. Not sure why they are advertised as hand warmer pockets. The hand pockets are, however, designed inside the down baffles so your hands will be warm but this design normally lets in the cold behind the baffles into the jacket if the pockets are left open for too long. Yes I said "the other pocket" as in singular because there is only one other small zippered interior pocket on the entire coat. My old Fitz Roy had two interior pockets-one large mesh one and a small zippered one-in addition to the outer napolean chest pocket and two hand warmer pockets. So the Fitz Roy wins there. This is not really a big con for me because I wear gloves and don't ever need more than three pockets on a jacket when I'm out and about in cold weather but I expect someone will complain.

BOTTOM LINE: I didn't buy much gear this year but this jacket was easily one of the best outdoor gear items I purchased. The Patagonia Fitz Roy Down Hoody gets rave reviews for being loftiest and warm whiles the Marmot Ama Dablam has a accrued it's fan base for being light weight, easy to wear and having great color options (yes- almost every reviewer I read talked about loving the color of his/her Ama). But none of those reviewers discussed tailoring fit, durability or weatherproof-ness. At $300 spent for a superior light weight warm down hooded jacket these qualities were very important to me when I reviewed the Rab Neutrino and it deserves 5 stars or the highest possible gear rating because it surpassed every challenge I put it to.
View More Details on Rab Neutrino Endurance Down Jacket - Men's