Gear Review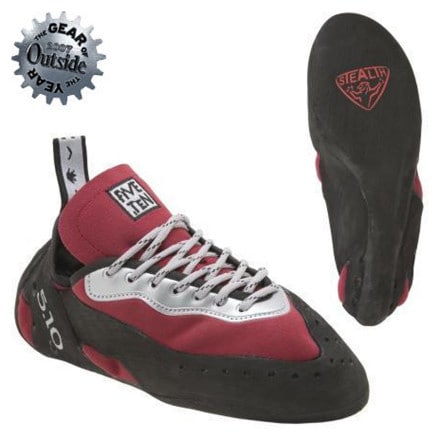 Why These, and a Sizing Guide
Member since
Posted on
First, why the Dragons over the other 5.10 bouldering shoes, i.e. project, v7, and team. All are great "performance" bouldering shoes, but in my experience lace ups always give me the best fit. This is magnified if you have a slightly funky foot (shape not smell).

The laces on the dragons really help me snug the down-turned sole into the arch of my foot and allow no slippage on the most intense heel hooks. If you yearn for the convenience of a slipper or velcro, or if 5.10 bases their shoe design off of your foot, then go with one of the others (The team is the "latest and greatest" and all that jazz.) they're all great shoes.

As far as sizing goes, these shoes are not meant to be comfy all day affairs. I would not recommend this shoe if this will be your only pair. Your feet will regret it. This is a shoe that is for climbing at your limit (both performance and pain wise, at least in the beginning). Size it "comfy" and you'll get less performance out of the dragons than you would a less aggressive shoe.

I wear a 12 in most street shoes and all hiking boots.
43 in Solutions (pretty tight)
42.5 in Miura vs (pretty tight)
I can climb in both 20 + minutes with only mild discomfort towards the end.

11.5 Madrock concept (comfy, could wear all day: main gym shoe)

Dragons 11 (exceptionally tight)
several boulder attempts or 1 sport climb (and I'll pop the heels at the anchors).

These were so tight at first that I used a shoe horn to break them in for a week. Getting my heel in came close to testing my pocket pulling power.

After a few weeks, they are only painful if I forget to take them off between climbs, or if I try to use them for a whole several hour session. I wouldn't say they are ever comfortable, but I don't notice them, comfort wise, while I climb.
I have a relatively small and narrow heel and a rather low volume foot. This makes me tend to size shoes a little smaller than I'd like to keep my heel from floating. I could not have worn a smaller size. My heel would simply not go in period. If you have a relatively larger heel or a wider foot, then I would not recommend more than a half size below your hiking shoe size.

Remember, this is a "performance" shoe. Size and use accordingly and you should get several great seasons of performance out of it.
View More Details on Five Ten Dragon Lace-up Climbing Shoe