Gear Review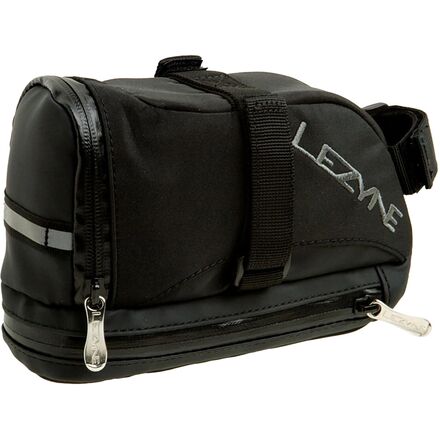 Posted on
Went Large, It's in Charge
I looked at several seat bags before settling on the Lezyne Caddy. Then I went back and forth on the large vs medium. The medium would probably hold everything needed inside, but it only has a Velcro pouch on the bottom. The large has the zippered pouch on the bottom like the pictures on Huck-n-Roll. It is technically there to hold your multi-tool, but like the H-n-R description says, it holds your cell phone perfectly. I can turn on Sports Tracks or My Tracks, and it picks up the GPS just fine from inside the Caddy.

The little organizational pockets on the inside are handy, but a bit tight. Takes some finesse to get the tire levers in. I use the money pocket to store my patch kit, a power link, and my air chuck. A tube and my multi-tool sit fine in the main compartment with room to add a bar or Gu if I want to cram it in.

I definitely prefer the Velcro straps over other seat bags with the plastic clip on attachment. The straps could be a little shorter though (although I guess that is better than having them too short). The zippers are water tight, and that little gray strip on the back is reflective. Lots of nice little touches on this make it stand out from your standard black just one main compartment seat bag.
View More Details on Lezyne Caddy Saddle Bag