Gear Review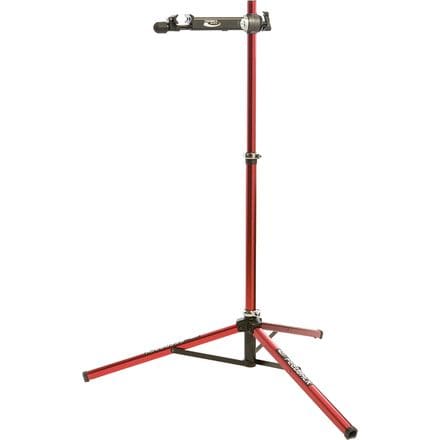 Posted on
Way better than I expected
It a fact fact once you use a repair stand it is hard to use the old flip the bike over method to clean and work on your bikes. After borrowing my brothers Park PRS-25 stand over the winter I knew I needed one of my own.

I really liked the Park stand and had no complaints about it except the $300 price tag and the fact that I blew the stand over when power washing my cross bike more that once.

When I saw the Feedback Sports Pro Classic the features and the price looked competitive so I gambled and bought it. Was I in for a treat. The Pro Classic stand is super light, 11 pounds on my scale. It folds down way smaller than the park too.

One thing I love about the stand is that it is solid as hell. The three legs are ideal compared to two because I provides a huge surface that stays upright and handles uneven surfaces well. The legs can be folder out all the way for a wide base for bottom bracket of heavy bikes our can be left only partially open if you need the space to maneuver around, like in a cyclocross pit.

The method jaws are convenient and secure, but work best on seatpost and round tubes. Aero posts and frame tubes are a bit funky to work with. THis is one place the PRS-25 has an advantage. The jaws on the park are super quick to engage and disengage on various tube shapes. Taking the bike off the stand is a little slower on this stand also. The step up feedback pro elite stand has a push button release which would be nice if you are constantly taking bikes on and off the stand.

Overall I am happy I tried the Feedback Pro Classic stand and I am super impressed on the quality and functionality. It look pretty sweet as well.


View More Details on Feedback Sports Pro Classic Bicycle Repair Stand