Gear Review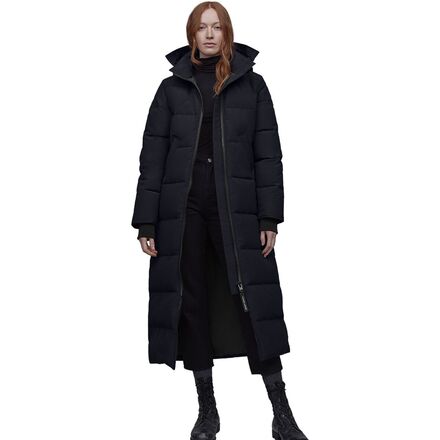 Posted on
Warm coat, horrible hood
-I bought a Mystique coat for my girlfriend for a two weeks trip in Siberian cities in December/January. It was not available in size and color from backcountry.com so I went with another authorized retailer.
Siberian temperatures were a constant - 20 C during the day and - 25 C during the night, rarely windy, dry. We would spend the most of the day walking around.
We wore underneat a thick fleece and very warm boots.
I had myself an Canada Goose Expedition Parka bought for the same occasion, so I will spend a few words about that as well.

The GOOD:
The Mystique coat is very warm overall, the warmest coat she ever had. It does the job. I would not go to Yakutzk at -40C with it, but for -20C / -25C is ok.
It is also rather stilish, despite the necessary bulk. Black makes it look thinner, and the cut follows the woman shape. The fit is average, not too thin, not too thick.
Very nice hand fleece cuffs inside the sleeves, which save your hands if you have no gloves with you.
Outer fabric is not one of the fancy hi-tech ones but functional and very tough, like the ones of other Canada Goose coats. We had no chance to try the waterproofness, but you would not buy or wear this coat for when it rains.

The VERY BAD:
THE HOOD IS HORRIBLE. Differently from 99% of fur-lined hood, the fur trim does not go all the way down to the base of the neck, it's just some sort of a top-crown. This leaves the sides of the face and the chick-bones completely exposed, together with a cut in the fabric apparently designed to allow to lower the removable hood (why would you want to remove the hood in a coat like this??). See picture, any breeze would blow straight to the exposed skin causing her frost-nips on the chick bones! At some poiunt she had to wear a balaclava underneat, but it was too late for her skin. Of course we tried to adjust the wire that runs along the fur trim, but there is no way to seal the sides of the face, and no strings to pull. BAD HOOD!
After the trip it was too late to return the coat to the store as it showed signs of wear. I brought the issue to the attention of Canada Goose. They returned my several calls and emails weeks later, and eventually did not aknwoledge the problem, despite seeing this picture. I spoke with several people there. I offered to pay for a fix or alteration, or asked them to sell me some of their black fabric to alter the hood myself, and they would not do it. They even said that any alteration would have void the warranty. They only offered to inspect it (shipping on me, I am in the US, they are in Canada) for possible warranty claims, but they confirmed the hood is the way it is and no alterations would me made. Bad attitude to not even aknwoledge your own design faults Canada Goose, sorry! If you want to leverage the "Made in North America" thing versus the "made in China", you should be more flexible and understanding in cases like this.

OTHER NEGATIVES:
The Mystique coat, like most other Canada Goose coats (I bought an Expedition for the same trip, and returned it, see below), has a baffled "sawn-through" construction: you take a flat piece of fabric, put down on it, then a second flat piece of fabric, and saw them together with a pattern to creat pockets to secure the down in place. Then Canda Goose adds a third loose layer of flat fabric: a tough one outside in the Expedition, and a liner inside in the Mystique. This makes so that there is no down-thickness along the stitches, zero, so you will feel lines of cold along them in very cold conditions which is, huh, what these coats are marketed for, isn'it? This is acceptable for thinner down jackets, but it is not what any other manufacturer of mid-weight to thick-weight mountaneering parka do (MH, FF, Marmot, Montbell): these other parkas have a 3D-baffled construction, with internal vertical "walls" of fabric to separate the pockets, to guarantee full thickness of down everywhere. Neither the Mystique coat nor the Expedition feature 3D baffles, reason why I returned my Expedition because of cold arms and cold lines around the stiches (mind I was wearing Polartec 300 underneat). Again Canada Goose did not aknwoledge the problem for that either, they only offered to take it in for warranty inspection, when it is clear that it is not a warranty problem but a design feature that it is not fixable. Thanks God the store took my Expedition back as it was very aware of the problem, as they received other similar complaints.

Other negatives:
- the pockets have only a thin layer of fleece to warm your hands, no down. Same for the Expedition.
- both these coats are very bulky and heavy, more than they should, and do not pack well. If you travel from a not-so-cold city to a cold one, you drag a monster of down and fabric with you, that will occupy the seat next to you or the entire airline luggage compartment, when it is not mopping the floor, it's huge.

Other thoughts:
- Canada Goose does not use "goose down", but duck down. So it should be called "Canada Duck". They do say it clearly though. And for all their coats but the Snow Mantra, they use 625 or 650 fill, sort of mid-quality. For these prices, they could use higher fill down (750 or 800, but hey, there is no 800 duck down available, only goose) and make their coats warmer and/or ligther, which would not hurt.

Bottom line:
I and my gf are not aware nor we tried any other coat specifically cut for women overall as warm as this one (I suspect there may be some out there).
Would she buy it again? Not with other options, she absolutely hates the hood, and we are planning to have it altered by a local taylor, voiding the warranty.
The coat could be warmer with extra down in the upper torso and 3D baffled construction. When you buy a super heavy and bulky $650 coat, I believe you can have a extra couple of onces of down.

Myself, I returned the Expedition and bought without a second thought a Mountain Hardwear Absolute Zero, 3D baffled construction, 800 fill parka, way warmer and lighter than the Expedition and packs small, although more delicate when you wear it.

Hope it helps.
View More Details on Canada Goose Mystique Down Parka - Women's