Gear Review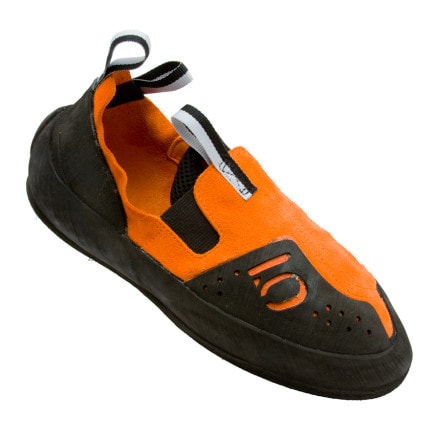 Posted on
Very route specific shoe
I bought these because I needed a new pair of shoes, and the shoe I had originally wanted, the new supermocc, was out of stock. Although the Supermocc, the Copperhead, and the Moccasym are all quite similar, (unlined leather "slippers" with elastic uppers and similar lasts) the shoes have some distinct differences, mainly in the sole rubber. The Supermocc has the thinnest Mystique sole. The Moccasym has a thicker C4 Sole, and the Copperhead the thickest Onyxx sole.

I sized these a half size down from my street shoe size because I wanted them to work well in cracks. Also, since the rand rubber wraps up over the smaller toes, anything tighter was drastically uncomfortable. After climbing in them in J-Tree, here are my findings:

+ These excel on crack footwork, especially on sharper cracks 1" and wider. Because of the rand wrap, jamming is comfortable and secure.
- This advantage diminishes the smaller the crack gets: the fatter rubber rand does not fit into fingercracks quite as well as 5.10 would have you believe.
+ The unlined leather, slip-lasted sole is highly flexible, allowing you to smear with confidence. Indeed, these are among the best smearing shoes I have used.
- That same flexible sole edges poorly. It is very strenuous to get power over your toes on any edge smaller than about a half-pad.
+ They are quite comfortable in the size I got them in, and I love the clever lacing system.
- They turn your feet orange, which is annoying. The dye is so powerful, that after transferring to your feet, it still has the gusto to stain your socks. Why can't Five Ten reduce their environmental impact, save a buck or two, and keep my feet their natural color in one fell swoop, by using undyed leather? Its not like the "Carrot-Juice Orange" is an attractive color anyway.

Overall, these are not performance shoes (despite being priced like them). They would probably be solid in the pure cracks of the desert, but don't have the edging capabilities to excel on more typical routes. I'll definitely use these when I want comfort on a longer moderates, but for all around performance, I'll reach for my Miuras.
View More Details on Five Ten Copperhead Climbing Shoe