Gear Review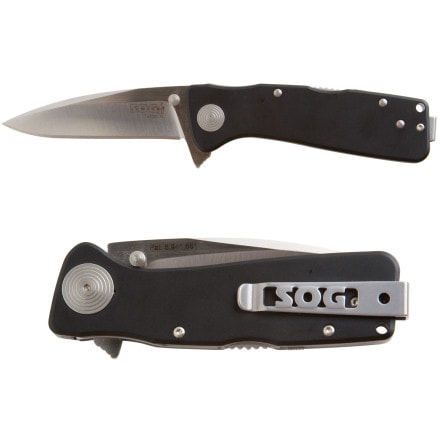 Posted on
Very nice knife
I enjoy this knife a lot. I have had it for several days and have been carrying it around everywhere I go. I have a bunch of other knives, but the only other assisted opener is a Kershaw Ken Onion design.

It is a solid knife, and while I would not call it heavy, it is not a light knife either. It feels solid, which is the best way to describe it. I like that the handle is thin and wide, because it fits into my palm very well. Also, I have not had any problems with my hand slipping up on the blade because of the pass through bar, although I have not used it when it was wet. This is kinda weird to say, but I really like the pocket clip on it. It is easy to clip onto my pocket and comes off easy. The blade came VERY SHARP, which was a big plus.

I don't mind the lockback style as opposed to the linerlock style that many people are used to. I usually close knives with two hands anyway, but I can see how it would effect one handed operation. The only thing I would change about it is the locking mechanism. The button is very small and there is not a lot of difference between "on" and "off." With this said, the knife has never opened accidently, and I don't see this being a huge issue.

I have one other minor quirk, which prevented me from giving it five stars, although in truth I would like to give it 4.5 stars. It is a little stiff to open, at least stiffer than the Kershaw. This is not really a bad thing though, especially if you are worried about setting it off accidently.

Overall, it is a good knife, and I would buy it again if I had the chance. Especially since it was on steepandcheap.
View More Details on SOG Knives Twitch XL Knife