Gear Review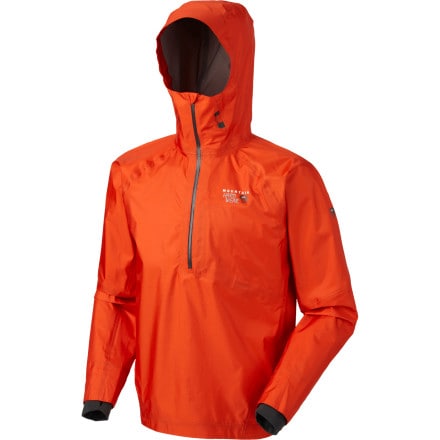 Posted on
Ueli knew what he was doing. . .the perfect shell
I have waited a while to give this jacket a review, and give it a bit of abuse too.
This jacket gets a 5 star rating, only because i can't give it anything higher.

This jacket makes me look forward to the rainy windy snowy days all summer long (the ones that seem to be getting more common in the Anchorage area. . .), and is the perfect shell for me for backcountry skiing. also is the only "rain jacket" i have used since i got it.

The very simple design (no pockets, half zip, one small stash pocket) helps keep the weight down, and it also prevents zipper pulls and pockets to get in the way or cause discofort.

This is the closest to a truly "waterproof breathable" fabric i have ever used. It breathes fantastically, while still having all of the waterproofing necessary. i have run in the rain for hours at a time and stayed dry, while not getting clammy and stuffy and sweaty on the inside of the jacket! it's great!

for me the fit is ideal. i'm pretty skinny (5' 11", 147lbs), and it fits with a bit of baggyness. this is what i want, because it makes for a perfect fit over an insulation layer (usually i am using either the 1/4 zip Moutain Hardwear Zonal (ideal because both are 1/4 zips), OR Transcendant Hoody, Montbell UL Thermawrap Hoody; in colder [below -5 Fahrenheit or colder] i have worn the Rab Infinity underneath, and that with it's much bulkier size has fit just fine!). when worn alone the fit is good too, not too loose, so it does not get in the way or caught in stuff. comfortable for running, nordic skiing, activity with lots of motion.

The cuffs are great! i love the removal of the velcro strap (personal preference i know), but i have liked it, and it is much nicer for colder conditions and snow. the only thing about the jacket that i do not like however, is the tightness of the little thumbcuffs that they have put in place, and the reason i would like it a little bit more loose is that i like to pull the sleeves up to just below the elbows during high output activities, and with the cuffs it is impossible for me to do that, though sometimes i can pull them up to the small point above the elbow, and it sits a bit too snugly there. but, i realize that the tightness ensures the ideal fit for when you are wearing the cuffs. (i do realize that most people do not pull up their sleeves, so this would be perfect, and not an issue at all. for me, it is not really an issue at all, just something to think about.) also, when it is really rainy the cuffs can get wet if you aren't careful with them, i suggest retracting the cuffs up the arm a little bit inside of the jacket, as this keeps them dry and out of the way, and has worked splendidly for me.

Great jacket, and totally worth spending a lot of money to get a shell that truly works great! to me a great shell is the most important piece of clothing to have, and this one really is the best.
View More Details on Mountain Hardwear Quasar Pullover Jacket - Men's