Gear Review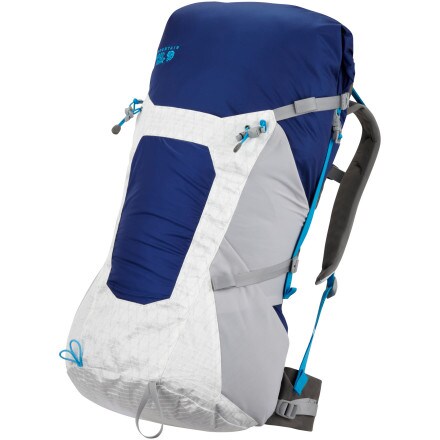 If you are in the market for a truly minimalist, lightweight backpack, look no further. Mt. Hardwear has taken some of the best features and innovations from recent cottage industry designs and applied them to this pack. Keeping in mind its intended use, for me, it fits the bill. I appreciate that it doesn't have lots of pockets, straps, bells or whistles as I would not use them. I also like that it's not attempting to reach the mass market of backpackers through a one size fits all encompassing design.

I loaded the pack with 27lbs, including food & water and found it to be quite comfortable to hike in for the weekend. One unique touch to this lidless design is the zippered pocket on the roll top.

Additionally, since I line my pack and place the bladder on top of the inside, I'm not concerned that it doesn't have a designated hydration pocket, however, I do wish that it had a port for a bladder to come through. While I've modified mine to allow for this, I was really hesitant to start cutting. Hopefully, future versions account for this oversight.
View More Details on Mountain Hardwear Thruway 50 Backpack - 3050cu in