Gear Review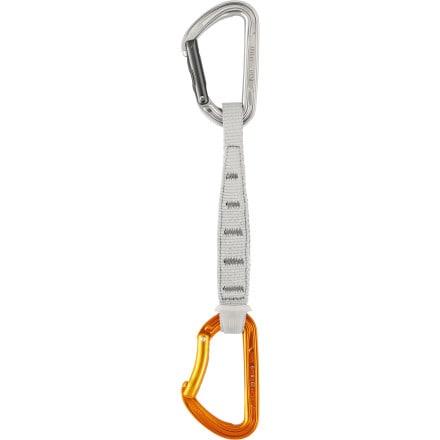 Posted on
They clip like new after 5 years
Biners are biners, right? I would have said so a few years ago. But my Petzl biners have held up much better than others from black diamond, camp, and wild country. The gate on one of my BD's sticks open. My camps have rope grooves from being demoted to anchor duty. But my petzls feel and look brand new.

I also like that the nylon dogbone on this draw is burly enough to leave it up on a route for a few weeks without the UV rays & rain degrading its strength. I'm sure it's all in my head, but I try to avoid leaving my BDs / wild countrys with their dyneema dogbones in the sun for days.

Pros: I like the longevity, the clipping action, and the durability of the dogbone
Cons: heavier and bulkier, 2x more expensive
Best uses: sport climbing
Don't use this for: trad, or if you're counting ounces

If you're just building a rack, I'd recommend five of the 17 cm variety. Longer draws = less rope drag. The short ones are only good if the bolts are in a straight line, and those climbs are never that fun anyway. If you get five draws, and your buddy has five, you should be set for most stuff. You can always salvage draws from the middle of the climb to finish putting the rope up if you run short.
View More Details on Petzl Spirit Express Quickdraw