Gear Review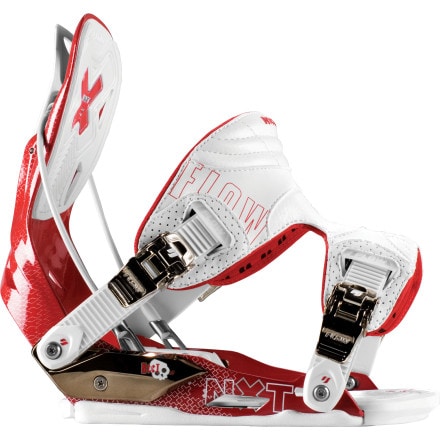 Posted on
The old Flows rule and these new Flows are even better
I love Flows and recommend them to all of my friends. I rode regular style bindings only a handful of times before I got my first Flows.

The convenience of Flows cannot be stated enough - imagine you skate off the lift, step in and pull the back up; I can get strapped in, in literally under 5 seconds.

The pressure distribution is far superior - pressure is distributed across the top of the entire foot, not just along two narrow bands. With regular bindings, I would sometimes put my toes to sleep because I like things tight and locked in, with Flows, no matter how hard I crank them, the pressure is across my whole foot so nothing goes to sleep.

I also like that I can get things adjusted perfectly by the second run and then just step in each time for the rest of the day or even week, no more constant fiddling. And with the new 4 ratchet system, whereby you can ratchet the foot pad into place, Flows have everything you could want from a binding and more. (my roommate has old, pre-ratchet, Flows and still prefers them to normal bindings)

Some people do not like Flows, I acknowledge this. Their complaints are usually along the following lines:

1.They don't like stepping in (you cannot get into Flows while seated on the ground). It takes a bit of balance and coordination at first, if you don't have a flat(ish) spot to strap in, but I ride all over Colorado and I've never had a problem finding a suitable spot. Plus, you can strap in seated at a bench or chair, which is nice. Anyway, any issues getting in, go away quickly with practice and you will always find yourself standing, comfortably strapped in, looking at your friends who are sitting in the snow, feeding straps through gates and cranking away.

2. They don't like the performance: If you are a top level snowboarder, you may notice a difference. I have not - I ride about 30 - 50 times per year, do some powder, some park, some all-mountain, some backcountry and I cannot tell a difference in the performance or responsiveness between Flows and regular. The high-back is plenty stiff (some riders think it won't be because it clicks into place and is held by a wire).
View More Details on Flow NXT AT Snowboard Binding