Gear Review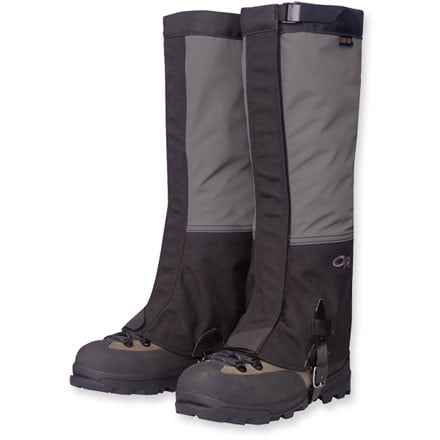 Posted on
The best gaiters around, though I recently had a buckle break off
I'll preface this review with my cut and paste statement that I work as a backcountry backpacking guide in Yosemite National Park. Nearly all of the products I take the time to review have seen at least a half a season, if not more, of use... and I'm committed to not bothering to write a review until I feel like I've really gotten to know a product. I never thought I'd bother to write reviews, but I've recently decided that since I've spent so much time over these last many years reading reviews, and finding a tremendous amount of value in articulate and well-informed opinions, that I wanted to give back to the community. So, with that being said, here we go...

I've put some miles on these gaiters, and am very, very happy with them. They offer fantastic protection, and as gaiters go, are the nicest I've found. Even aside from the basic water/snow protection that they offer, they add quite a bit of warmth for your calves, so they function as a decent layer, making them quite multi-functional... which is always something I'm looking for in my backpacking gear. Also, beyond the layering aspect, they are great for bushwhacking through manzanita, poison oak, or any other off trail adventure that involves getting your legs jacked up.

My only single complaint, which knocks them down to four stars, is that a week ago I had one of the buckles break in half in the middle of a trip to Lassen. Turns out the buckles are plastic. Now, I don't mind plastic, its great and all... but I expected more from the buckles on these. It most certainly wasn't the result of abuse, I just looked down and, lo and behold, as I'm about to remove them upon reaching camp the broken half of one of the buckles is dangling from the strap at the top of the gaiter.

Other than the buckle durability/design issue these are as good as gaiters get, and could possibly last you a decade or more with some care.
View More Details on Outdoor Research Crocodiles Gaiter - Men's