Gear Review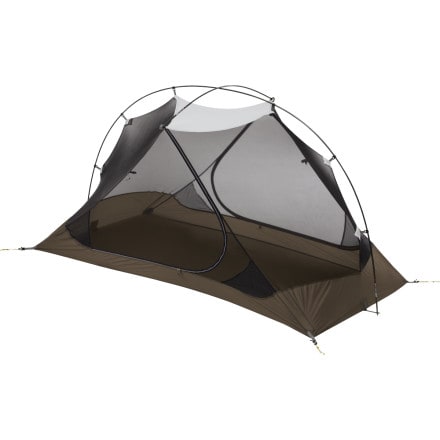 Posted on
The Real Scoop...
It seems there are many confused on exactly what you're getting with the 2012 Carbon Reflex 2 Tent. For starters, this is the 2012 version which has two doors and two vestibules, similar to the MSR Hubba Hubba. This is the lightest weight 2-man tent MSR currently sells. The 2011 version has 1 door and 1 vestibule and is a few ounces lighter.

The other point of confusion has to do with the brand new carbon fiber poles designed with Easton and that are exclusive to MSR. Anyone who thinks these can't take the abuse of wind, rain, and even a bit of snow has no idea what they are talking about. I find it comical that someone would deem them susceptible to breakage just by setting the tent up in their back yard, or worse, by simply pulling them out of the bag. I can assure you that both MSR and Easton has tested these poles way beyond what most people would put them through. There is no way MSR would include a pole section that would 'break over time'. It's not going to happen. These poles are significantly stronger than their aluminum pole equivalents and you can be assured that they will work as promised.

The materials are absolutely the best available! The fly is comprised of a 20 denier, 330 threadcount nylon. It has tremendous tensile strength for a super taught pitch (the tighter the pitch the more wind and weather resistant it is) and all of the guyout points are reinforced with a laminated patch of nylon. The fly can be pitched separately when you use the Carbon Reflex 2 footprint. The floor is a 40 denier, 3,000mm DuraShield polyurethane coated floor, substantial when compared to other sub 3lb tents on the market. The DuraShield coating is superior to any other tent coatings available. If properly stored, this coating will last for many years without any concern of delimitation no matter whether it's stuffed in or folded (the tent must be stored dry). The main body is a 20 denier no-see-um black mesh that disappears when it gets dark. It really feels like you're sleeping under the stars, but with complete bug protection. The details are also worth mentioning. You simply get the best stakes available in any tent. They are MSR Mini Groundhog stakes made from extruded aluminum, super lite (10 grams per stake), Y-shaped, and red anodized. They are nearly indestructible and retail for $3 per stake. The tent, pole, and stake bags are also finished complete with taped seams to keep them from fraying. MSR has included NiteEyz cord locks on each of these bags to insure they don't slip, thus the stake, pole, and the tent bags don't lose their contents. The details are an example of the quality and attention MSR puts into everything they do.

This is intended for those who want livability in a sub 3 lb tent and demand the best quality available. Are there lighter tents? Of course, but not in a double wall tent that includes 2 doors and 2 vestibules, and with the amount of room that the Carbon Reflex 2 has! This is a true 2-man tent (the way MSR determines this is if it can fit two regular size Thermarest mattresses (20in wide X 72in long) side by side with out overlapping the other). It also has enough room for at least 2 people to sit in without touching the walls. You can actually change your clothes in it!

I've included the dimensions and specs.
View More Details on MSR Carbon Reflex 2 Tent 2-Person 3-Season