Gear Review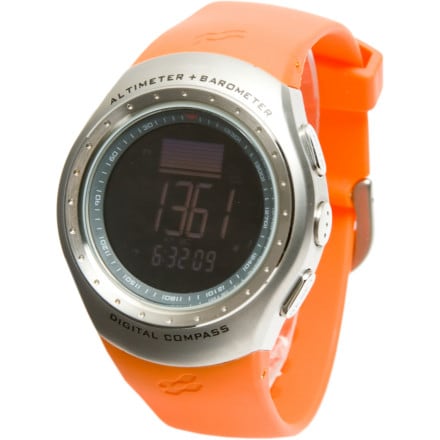 Posted on
The Origo Granite Peak Rocks!
Granite Peak, at an elevation of 12807 feet above sea level, is the highest point in Montana. This watch has been one of the high points on my backpacking trips over the past year! The compass function is dead on (though I carry and use a base plate-type compass). The altimeter function is accurate, too. Since the altimeter function, as with ALL altimeter watches, is based on barometric pressure, it does require calibration (because: as the weather changes, the barometric pressure changes and the altitude readings are affected). I usually calibrate altitude at the trail head and at other known altitudes - in conjunction with my topo maps - during my hikes. Calibration only takes 30 seconds and altitude info is super useful. I use the weather indicator function (also barometric pressure-related) to anticipate upcoming weather. I use the countdown timer function when preparing meals and when using Aquamira water treatment (5 minutes to premix the Aquamira; 15 minutes before drinking the water). I use the chronograph function when I'm jogging. I use the temperature function to see how cold it gets during the night (note: watch can't be on your wrist for this function because body heat from wrist would affect the reading). I use the alarm function for days on the trail when I want to wake up early / stay on schedule (if I had my druthers, I'd make the alarm a little louder). The back-light makes the watch easy to read at night. The time function has two zones. The watch has heft which makes it feel solid. The watch band is thick rubber which, for me, is comfortable and it feels like it should last for some time. Attached picture shows the Granite Peak in action: 26 deg F at 8:53 am on Monday, September 6th, 2010 in the Wind River Range.

p.s. I bought a Suunto ABC watch and it was like wearing a saucer on my wrist - UGLY! Also, I liked the Granite Peak so much that I bought one for my son.

Enough said!
View More Details on Origo Granite Peak Series Altimeter Watch