Gear Review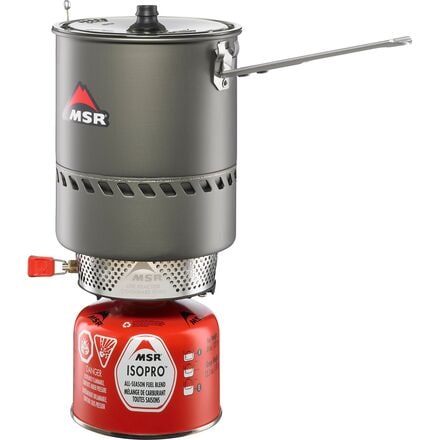 This thing is an oven. MSR's graphs that are provided on their box are certainly accurate as well. At 7500 feet this thing had no problem with melting snow and probably enjoyed the chance to show off. People like to worry about stoves that run off of isobutane/propane because performance decreases with the amount of fuel you use. In the case of the Reactor, it only requires 1.8psi in the can to be burning at full bore. Most cans are filled to 6psi. Jet Boil in comparison requires 3psi. Therefore this product takes an even farther leap in design than Jet Boil in terms of performance/function.

This stove works off of radiant heat and not convective so more of the energy goes to heating the water and less is diffused into the air by convection. It works in really high winds even. No need to use a screen to trap in heat...

This thing rocks.

One trick I want to share with people is that another way to get more out of your canisters is to make a neoprene 'sock' to envelope the bottom and sides of the cannister. After using the fuel and during use, put a hand warmer under the can and then slip on the sock. This helps at altitude and in colder temps.

Only two complaints. This is a combination setup where this stove and the pot are made for eachother. You cannot use another pot with this stove. Secondly, one thing that the Jet Boil has on the Reactor is the locking mechanism to keep the pot attached to the stove. From what I hear, this was intentionally left out by MSR for matters of safety.
View More Details on MSR Reactor Stove