Gear Review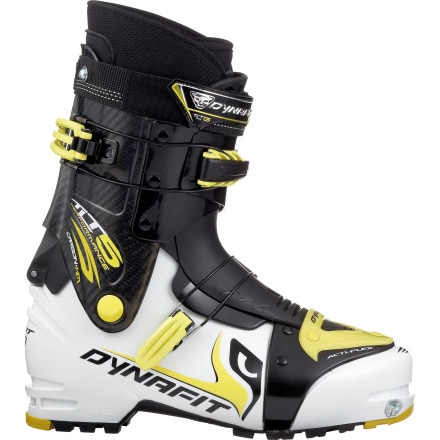 54 years old, experienced backcountry skier living in Utah. I don't "huck 40 footers," or ski super fast. I ski often and was looking for a lightweight back country setup. They are matched with Voile Vectors and Dynafit bindings. They are fitted with one medium sock (I could not fit more in the size 30 shell.)

Advantages: 1) Light. 2)Great range of motion in tour mode, especially without the removable tongues. (not bad even with them). 3) Surprisingly stiff with lots of forward lean; this is not adjustable, so you better like it.

Disadvantages: 1)The silly removable tongues seem destined to be lost; they can easily fall out, when you are removing the boot. 2)The boot allows some powder intrusion without the tongues in place (think wet boots on a deep powder trail break. But you can tour with the tongues in place, and not experience leakage.) 3) No forward lean adjustment 4) The boot seems unnecessarily stiff for my backcountry skiing style. 5) Price: ridiculous, but I paid it!

Summary: a very light and very expensive, high performance boot for expert skiers, with substantial stiffness and (non-adjustable) forward lean in downhill mode. They have great ankle flexibility in touring mode with the tongues removed, and good flexibility even with them in place. They seem ideally suited for randonee racing, or similar pursuits.
The removable tongues are the boot's achilles heel, in my view. I think this is a design flaw. I fear I will lose them, and that they will be difficult and expensive to replace.
I would prefer an equally light, but softer boot, a bit less forward lean, and no removable tongues. I have not had them out in extreme cold, but have not had cold feet. (You may love the stiffness and forward lean.)
Light weight design means they are probably not optimal for "hucking 40 footers," but for the majority of skiers, they seem sufficiently robust.
View More Details on Dynafit TLT 5 Performance TF Alpine Touring Boot