Gear Review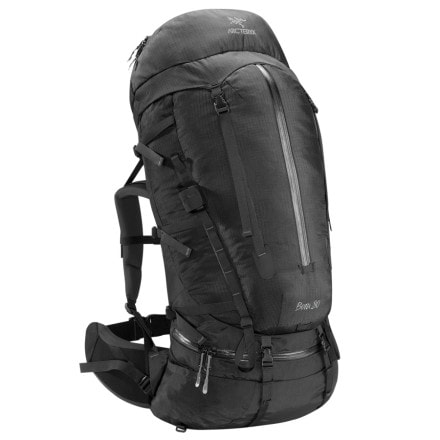 Posted on
Superlative. Period.
Aside from enjoying just carrying this piece of art, I believe that it is the result of someone actually designing according to what a person would need to do when backpacking or climbing.

The Bora 80 is sized to allow use of dual axes, crampons, rope, snow pickets, winter clothes and sleeping bag, a real winter stove such as an MSR Reactor or XGK II and actually carry well...AND provide the confidence that you won't end up with a mess halfway to where you're heading because it fell apart.

I really like the ability to use a 2L Nalgene hydration system out of the top pocket, an elegant solution since it is independent of whether the pocket is on or off the rest of the pack and any realistic hose diameter will work with the rubber ring-keeper on the shoulder harness. I like that I can reload this bladder easily without getting into the main compartment, and that I have that much more space in that compartment with virtually nothing compressing the bladder. There's no interference with the function of the main part of the top pocket, which provides good space and a spare waist buckle- doubling as a lumbar pack.

I find that often there is no need for a rain cover, because of the quality of the zippers and pack material. When I use one, it's usually to discourage animals or Republicans from trying to sample that material overnight.

I sometimes use the excellent 2010 version of the Arc't Cierzo 35 within this pack as a summit pack. I got mine while I was shooting at the XXI Olympic Winter Games and am impressed at how it holds up around a shovel, snow saw and ice screws for being so lightweight.

The daisy chains are useful for me, racking climbing gear for example. The side zip access lets me get to WesternMtg Vapor down jacket easily. Low-weight items go into the large rear pocket, improving the pack's balance on my back. A very large sleeping pad will fit at the base with the straps provided, and there are 2 additional anchor points at the bottom if still more storage is needed.

If I need even more volume, my Lowe Alpine Kanga Himal 110 is in the garage- but if not carrying something like a video tripod, camera rig, or extreme cold-weather clothing, the Bora 80 meets many of my needs for backcountry travel.

When going ultralight, I reach for something like my Gossamer Gear G5 which probably weighs about what one shoulder strap would on this pack.
View More Details on Arc'teryx Bora 80 Backpack - 4390-5000cu in