Gear Review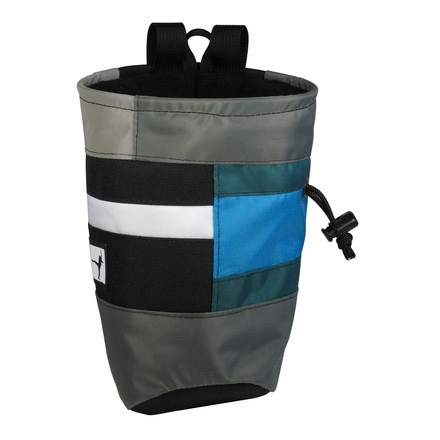 Posted on
Super Functional ! !
First off, the pocket being on the back of the bag (touching your back when worn) is an awesome idea. Doesn't deform or unbalance the bag like if the pocket was on the side. The pocket itself could hold even an original Ipod or Zune and allows you to switch up songs without needing taking it out and get the mp3 player all "chalky". The zipper/plastic screen seems solid enough to hold up and keep chalk out over time.

Opening on the top is nice and stiff, but is also low profile so you don't have to worry about the rim ever getting in the way of your hand. In fact, when I first used this, I wasn't even sure my hand was in the bag until I felt my chalk sock (not included) at the bottom. So has a wide enough opening that it won't interfere with even medium/ medium-large hands trying to get to in there~!

It's also shaped like \_/ so you aren't going to be scraping the walls of the bag with your fingers either, trying to get the last bit of chalk out. It'll be down at the bottom waiting for you!

Dual straps are key, and allows either a biner or the belt (if you're into that) with ease. If you cant get it to sit right with a biner, rotate one of the loops 180 degrees and it'll keep it positioned better.

Fleece lining on the inside is Ultra Plush, and will probably eliminate the need for any kind of Chalk sock, but is usable with one either way. Drawstring closure is secure as is the clip, closes all the way and easy enough to open when you're ready. Even if it's during a climb.

Size is great, Pocket is bomber, and works perfectly. Oh, and the blue/orange and orange fish colors are baller.
View More Details on Metolius Chalk Pod