Gear Review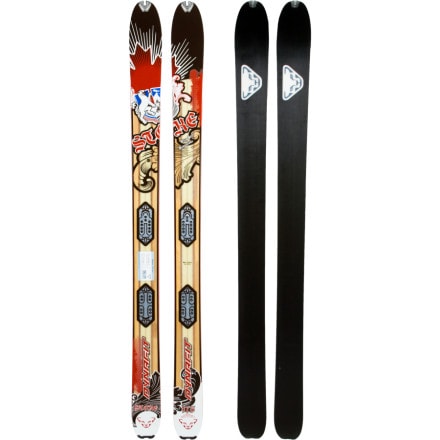 Best to get a review on here other than Greg Hill's. :)
I am one of the last Mohican's to get away from the narrow touring ski. I did not like the idea of using up 1/3rd of my pack space with touring skins.
Let me tell you it is well worth the lost space. This Stoke ski is by far the best powder ski I have ever skied on, in 35 years of BC touring, that is forever for some of the kids out there.
I got the 182's late last spring and skied Mt Adams, skied great, but they were to short for me (6'4"-210# aggressive skier). I waited and waited and got the 191cm. Sold the 182's. The rocker reduces the running length for me by at least 5cm.
That is the best move I ever made the 191's shine for a guy my size. Even touring the kick turns are easy, easy, easy.
The turn radius is very subjective to the conditions. These can place the tightest of turns on a powder face and dash through the tight trees with ease. Or for the new schoolers they can open them up and not have a problem at all.
I have found them to be pretty solid on the carve-able groom, the tips shake a bit, but don't effect the ski experience. They really load up in a turn and pop for a wide board! They hold an edge on the ice too, but become more squirrelly in the tips when real firm snow is being tamed.
I have them matched with FT's and BD Quadrant boots. I have used the Scarpa TX-Pros (NTN Tele) even on this rig and they tour great and ski fine in powder.
The weight of the setup is 2# lighter than my 88 waist skis. I put Ascension skins on these and they climb like a goat, but lack the glide on the flats and small downhill shots. I would love to compare mohair to these and see the difference.
The insert system is a little fickle. Even hand/finger tightening with a Pozi-3 I had issues with one of the front screws turning into a spinner. Errr...

Don't hesitate if you are on the fence between the Manaslu or the Stoke. The Stoke will not let you down.
View More Details on Dynafit Stoke Ski