Gear Review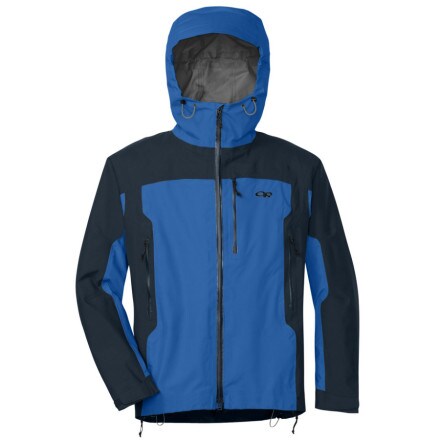 Posted on
Step Aside, Arc'teryx
I'll echo Aaron Nash's review 100%. This jacket has never disappointed me and in my opinion it rivals the competing Gore-Tex Pro Shell jackets (the bird fossil brand in particular). Here have been my experiences:

Skiing: this is my primary ski shell and it has held up to abrasive snow and ice (I am new, so I fall occasionally) and looked brand new after the first season. It keeps the wind out well too, but also lets me dump heat in a hurry so I can avoid sweating on the way down and freezing on the lift back up.
Mountaineering: I climbed Longs Peak with the Mentor in rain and sleet. I was 100% dry and it showed no wear after rubbing on lots of granite while scrambling up and down.
Hunting: I just got back from a hunting trip where it rained non stop and we were bushwhacking through wet brush and shrubs. Again, 100% dry and no wear and tear despite being scraped against trees and branches. Washed it with some Nixwax and it looks brand new.

When I went searching for a Pro-Shell jacket, I basically narrowed it down to the Mentor or the 'teryx Alpha. From there, the decision was cake. What sets the Mentor apart? First, the Mentor wins this easily in terms of ventilation with the torso zips. You'll never get clammy in this thing. The Alpha can't compete in this regard. Second, the Mentor has a two-way main zipper which is great for dialing in the perfect fit. This is just my personal preference, but I gotta have this with my jackets if possible. Third is the main advantage the Mentor has: price. The mentor costs hundreds less than other Pro Shell jackets, yet it is built just as tough, has a lifetime warranty, superior ventilation, and attention to detail.

In my opinion, if you spend the extra one or two hundred bucks for an Alpha AR or SV, you're a sucker. That extra money buys you a less-thought-out jacket with a well-recognized brand logo and that's it. I now consider Outdoor Research to be a top-notch brand with some very innovative products that in my experience are all built solid. If you want a Gore-Tex Pro Shell, this is hands down the best value.

I am 5'11" and weigh 185-200 lbs (depending on the season). The L is perfect for me. Plenty of room for some layers and a down puffy, but not overkill.

When the Zombie apocalypse comes, I'll be happy I have this bad boy, and also happy with the additional $100-$200 worth of gear that the Arc'teryx-wearing fellas couldn't afford. Buy hey, at least they'll be wearing a fancy brand name when they get eaten by zombies.
View More Details on Outdoor Research Mentor Jacket - Men's