Gear Review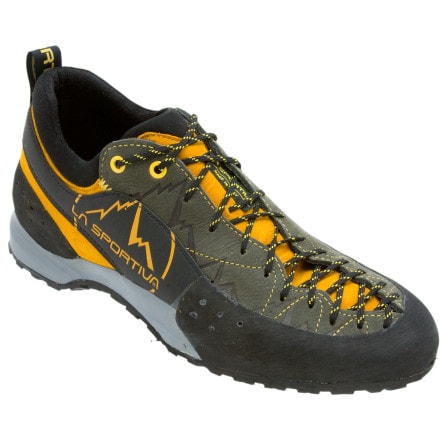 Posted on
Sportiva - Ganda Approach shoe
Let me say that I have worn the soles off one pair within a little less than a year due to the amount of wear I put on them. And I purchased another pair so that I wouldn't be with out my favorite shoe, while the first pair is out getting a re-sole.

With this said, I must say I've only done a couple trips where approach work was truely done in these shoes. The rest of the time was kicking it around town, an occasional hike on a weekend and going to and from the gym to climb.

A friend of mine at a local proshop told me when these first came out that La Sportive touted that these bad boys were designed to withstand up to 10 re-solings. After seeing the shape my orignal pair is in, there is no dought that these are well worth the money I spent on both pairs I own.


I think the rubber is a bit better durability wise than that of 5.10's guide teenies which I've owned several pairs of in the past. They was still very sticky even when the knobbies begin to wear off.

The best part is that the shoe it's self hasn't broke down like that of the guide teenie by 5.10, and because of this solid build my other pair off getting new rubber put on them.


I also like the fact that, not only do these look cool and they are different than what a normal individual wears, they hike well while being a decent climber unlike most quote approach shoes a whole which truely don't done anything very well when one honestly critics them.

I've bouldered on V-3's, Trad climbed up to a 5.10a's. They edge truely with a sturdy lateral support of a great lace up, while the soles tend to be a lot stiffer than many approach shoes that wear more like running/ cross trainers.

I highly recommend these to anyone whom is looking for a solid approach and is willing to spend a bit more to get a truely great approach shoe.
View More Details on La Sportiva Ganda Approach Shoe - Men's