Gear Review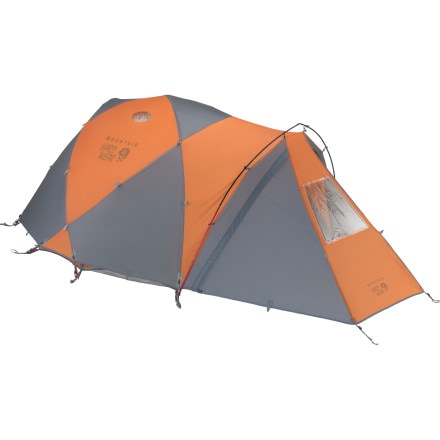 Solid Tent
Member since
Posted on
I've spent the last 3 seasons eyeing this tent and finally decided to grab it while it was on sale. Got a great deal too!

So overall I have to say Mountain Hardware did a great job in designing this tent. I took it out to Lake Denison this past weekend to just give it a dry run. It didn't see any weather, a little rain but nothing at all major.

The tent is a very strong design. If tensioned properly there's no slack in the exterior or interior walls creating a very strong shell. Stating the obvious this is a 4 season tent. It was 85 degrees out so the inside of the tent was a little warm. There's a single vent on the roof of the tent wall that allows for circulation of the air. It has a solid door as well as a mesh door. If you open the vent and crack open both vestibules you'll get a good amount of air moving through. I cheated a bit and hung a fan from the ceiling to move a little more air.

Pitching is pretty fast and requires just a little common sense to get it done. Poles are super light and strong. They'll almost snap themselves together if you aren't careful taking them out of the storage bag.

The front vestibule has a good amount of space. could easily stash 2 packs in the front and a 3rd pack in the rear vestibule.

The stakes are also top quality. I've read some reviews that say they are junk but they did the job for me. They stayed in the ground and didn't want to come out. Had to use a shop rag and vice grips to yank them out.

The interior has a good amount of room. It was only my girlfriend and myself in the tent, plus a small dog, but 3 could easily sleep in this tent.

Overall I could see this tent doing well in the elements and taking a serious pounding. If you're looking to get into cold weather camping this would be a good pick. Its a little heavy so splitting between multiple packs would be the best bet if you're taking it up a mountain. Overall great tent. I'll update when I get it out for steel head fishing this winter.
View More Details on Mountain Hardwear Trango 3.1 Tent 3-Person 4-Season