Gear Review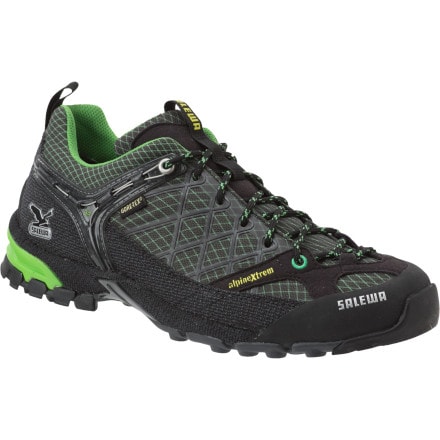 Posted on
Solid Hiking Shoe
I recently purchased these as I searched for the perfect light hiking shoe. I've used a variety of models, but probably my favorite has been the the Salomon Pro 3D series - yes its technically a trail runner, but I used it as an everyday/outdoor shoe. Like everyone else, I liked the Salomons but felt they left something to be desired in the durability camp and I had a love/hate relationship with their lacing system - awesome for everyday use, but lacked the fine tuning for hiking.

I've used these for two semi major outings with medium exposure, about 15 miles, and about 5000 vertical feet thus far and a couple shorter/local hikes out with the dog in the woods so I feel like Ive got a pretty good feel for the shoes, but can't comment too much on durability.

I've got a narrow heel, high arch, medium width toe box type foot and put green superfeet in these shoes. I really dig the climbing lacing - I can loosen up the toes to give me a comfortable fit. I've found that I really need to tighten down in the mid foot to keep my foot more stable, otherwise I have a slight tendency to roll my ankles. When tight, I have no issue supporting my full day pack which typically includes Rain Gear, 4L H20, a DSLR, Food, First Aid/Essentials.

Comfort wise, I couldn't be happier with these. No blisters to speak of, my feet are never really sore at the end of the day, the padding is a bit less than your typical trail runner - more in line with most hiking shoes which is fine with me. They also have a stiffer sole than your typical trial runner - It still flexes fine, but provides a touch more support and protection. When standing on the sharp boulders in the North Presidential Range, I could feel the rocks digging into the balls of my feet a touch, but it didn't hurt. One thing that stands out about these is how they provide more of a hiking shoe base, but have the tight and reactive fit of a trail runner which is great when I'm jumping from rock to rock on the way down the mountain. Also, I have not had much of an issue with temperature etc. with the gore tex while wearing lightweight wool socks with max temps in the mid 80s and humid

I'm kind of torn on the soles still - along with the durability question (I can see where the rands could become an issue), they're why these get 4 vs. 5 stars. They're great when climbing on dry rock providing superb traction. Its nice having rands if you decide to hike up a little cliff during your hike, but the second some liquid gets on there and there's a little pitch, watch out. A couple times on my ass and all the confidence is out the window. Granted, no shoes perform well in these conditions, but these are quite poor on wet, slick surfaces.

All in all this is a very solid hiking shoe that can be used on approaches as well if conditions are dry. I've had not issues with blisters, etc. I'm still not 100% sold on the durability of these and the soles leave something to desire when the rocks get a little slick.
View More Details on Salewa Firetail GTX Hiking Shoe - Men's