Gear Review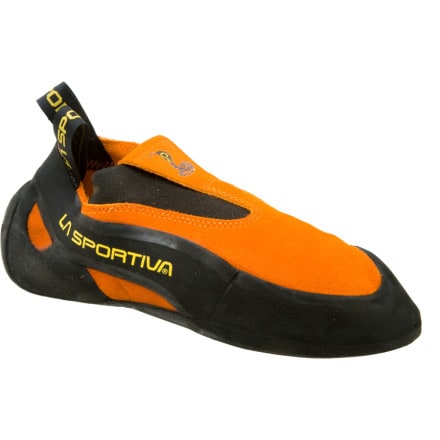 Let's start with sizing:

I wear a 42 in Miuras and got these in a 41.5 -> perfect (once broken in).


The break-in:

Owowow! NOT for the faint of heart. It took probably 10 hours total on-foot time for these puppies to get broken in. I still can't wear them for more than a couple of pitches at a time. At least they don't try to break my toes when I fall off a boulder problem (I'm looking at you, 5.10 Quantum).
Before the break-in I could only wear them for a problem or 2, or a painful pitch before the numbness set in. They pressed really hard on the inner part of my big toe knuckle (where the extra rubber is). Now they're awesome, they've relaxed just enough and become like a second skin. They also barely turn my feet orange anymore.


The performance:

I've climbed my hardest routes in these. The heel cup is amazingly secure for a slipper (I've never even had a hint of a problem with heel hooking), which also makes them kinda hard to take off (NBD). You need to have amazing foot strength to get them to "turn dime edges into sidewalks" as per the description, but they do edge well for such a soft shoe. But oh MAN do they smear! I truly believe this rubber (Vibram XS Grip2) is stickier than stealth, and the amazing sensitivity and flexibility of these shoes really help it come into its own on marginal smears. They lose their (slight) downturn pretty quickly, but you can just flex your feet and they'll flex with 'em (use your feet like hands).

All in all, these are everything I was looking for in a slipper (but if you're planning on doing mostly cracks, the moccasym is probably a better suited slipper than this toe-curler). I imagine these'll stay in my rotation as long as La Sportiva keeps making them.
View More Details on La Sportiva Cobra Vibram XS Grip2 Climbing Shoe