Gear Review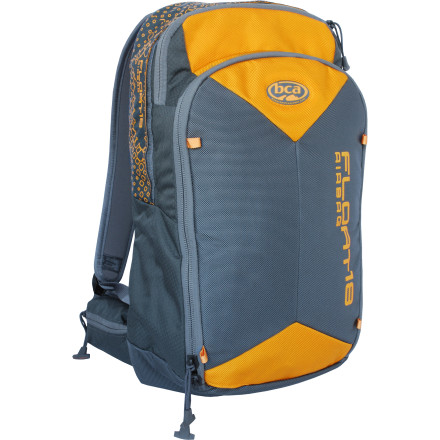 Posted on
Small on size, big on safety
4.5 stars

Looks good, fits fat skis, and is one of the most affordable airbag options out there. This is the smallest airbag pack out there, but I'm thinking they could have made it just a bit bigger. Maybe by expanding the outer pocket to the top of the pack or just allowing it to stick out a bit further. (More on what it fits below). I will also mention that there isn't much back padding and the back pad is not vented.

The pack fits a shovel, probe, skins, Nalgene, and mittens. Or you can substitute a Mountain Hardware Compressor jacket for the Nalgene. You may also be able to squeeze the jacket in there if you use a thinner Nalgene or a bladder (Platypus), but that is really testing the limits of the zippers. I'm sure you can squeeze sunglasses in there but there's no way to fit a coat, Nalgene, skins, and goggles.

My shovel handle and probe are just a bit long for the pack. (Which isn't a surprise since they didn't fit in my old Dakine Pro 2 pack either) So I'm gonna have to swap them out for smaller versions.

Most of the time I'll be using this pack for sidecountry, so I wont have an extra jacket or skins. I think if I get a slightly smaller shovel/blade and a more compact water bottle it will fit everything except goggles, which will be fine since on the way up, the skins will be on my skis.
View More Details on Backcountry Access Float 18 Winter Backpack - 1010cu in