Gear Review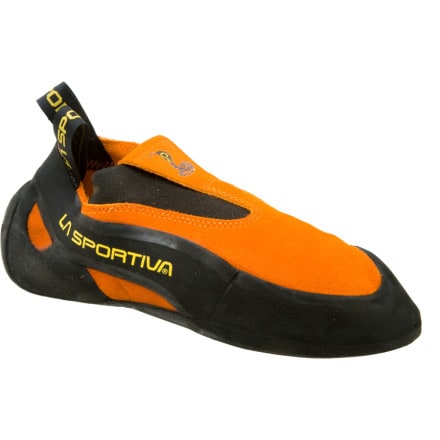 Posted on
Slip on Performance
I normally would wear about a 40.5 in most other climbing shoe brands, but I sized down to 38 in the Cobras, and they fit pretty well for being new. I have wider feet than average, I also have Morton's toe (only slightly) and these fit very well for not even being broken in yet (I'll edit my review once I climb in these suckers more).
The features/designs that really stand out to me are that the rubber on the toe ends right at my knuckles, which allows my toes to be less cramped since they're only on the stretchy leather. The rubber on the toe extends up only covering my big toe, which will be useful for jamming. The heel rand is incredibly well designed as well- even for a slipper it cups your heel very tightly so every heel hook feels bomber.
My only issue, is that the fabric rubs on the bottom of my ankle bone. Maybe I have "low ankles" but I think the shoe could have been cut a little lower.
This is absolutely no reason to deter from buying this slipper. The rubber is amazing, the fit is great, even for the shoes not being incredibly down turned, they can stick on holds really well.

I can't wait to see how these do once they're broken in.
FYI, I was climbing in a pair of Red Chili Matadors prior to the Cobras.

*UPDATE*
As with any pair of slippers, if you're needing to get a super gnarly heel hook, find some different beta. These have slipped off my heel a few times, it's not too bad, but I wouldn't trust them for a completely secure heel hook. The fabric under my ankles is also continuing to bother me. I'm not sure why they had to make it so tall... also, I think my feet are a little wide for the shoes, I can barely stand wearing these for a full day of bouldering. On the positive, these things can edge on a dime and smear like no other.
initial rating: 8/10
broken in rating: 7/10 - minor things that I can expect from slippers, still AMAZING!
View More Details on La Sportiva Cobra Vibram XS Grip2 Climbing Shoe