Gear Review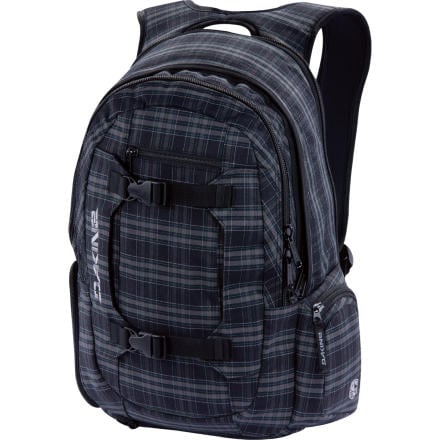 Heres the deal in the world of camera luggage your options are endless. There is sling, backpack, messenger, etc. you need to figure out what style of bag that fits your lifestyle best. I have been fortunate enough to be able to use a handful of different styles and was never hooked on any till I came across this Dakine Mission Photo Backpack. This bag comes with just about anything I could ask for in the world of camera bags.

First lets talk about the overall appearance of the bag it Cool and confident; its takes queues from tradition snowboarding/skateboarding backpacks so it doesn't scream "Hey I have really expensive camera gear in here come steal me!"

The bag is made from high grade nylon and polyester. The zippers are a beefy YKK the strongest I've ever seen for a camera bag and some of the strongest in any luggage for that matter. There are chest and waist straps to help you secure the bag to yourself so you make is snug and a secure fit. The waist straps are padded which come in handy if you are wearing the bag for extended periods of time.

There are three small external pockets on the sides one is fleece lined for delicate items I put my sunglasses in there its a perfect fit. The other two are nylon lined and could be used for snacks or other smaller items. The reason I gave it 4 stars instead of 5 is I saw and read in other reviews that one of those pockets is suppose to expend into a mesh lined drink holder I got the Phantom Color and Im not entirely sure if maybe its that specific color way that didn't come worth it or maybe it was previous years that offered that unique feature and this years didn't. Either way I was a little let down not having that on the bag but Ill make due I think I'll try and fabricate something to to make it capable to hold a bottle.

The tripod carrier/board carrier has a unique texture on the inside of it that creates grip for either or. It has a deployable rain cover that pulls out and covers the entire bag expect the part that resides next to your back. A nice feature because most camera bags don't come with any type of waterproofing.

The interior of the bag is a nice lime green color which I wanted a bright colored interior because dark interiors can often be hard to locate items in certain circumstances. It has a few different pockets for pens, cables, memory cards, ipods, phones, etc.

The camera block can configure to basically any way you want it set up. It only comes with two velcro dividers so If you have a camera bag already you can just pull a few out from there and put inside this one to give you a few more slots for lenses and accessories; if you don't have a camera bag already you can purchase extra dividers on eBay or Amazon for a couple bucks.

The camera block can be removed entirely to create two separate bags. I find this to be an excellent feature if you acquire new items while your are out and need a space to put them.

This bag is everything I could ask for in a camera bag without being to big and bulky. Except the water bottle holder would have been a nice feature to have. But don't let that stray you away from buying the bag. Dakine has been making great products for years and the mission photo bag is no exception to that.
View More Details on DAKINE Mission Photo Backpack - 1500cu in