Gear Review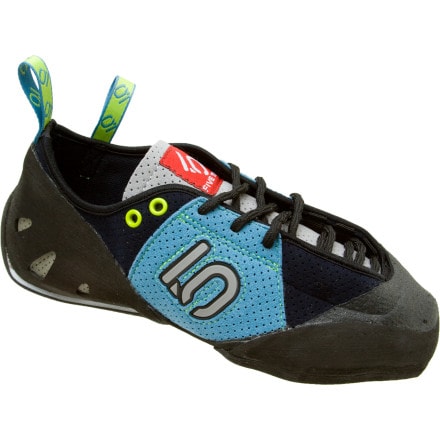 All reviews are pretty much dead on when saying that these shoes are great for slab. Except that they don't tell you the truth. These shoes are THEBESTFREAKINSHOESONTHEPLANETFORSLAB!!!! The 5.10 Rubber is amazing, and these shoes genuinely have made me feel like I could walk on a wall. You'll be able to confidently stand on stuff so small you can barely see it's there. And when time comes for cracks with serious edging or crazy smears, the shoes will be there for you.

Small pockets aren't so good with this shoe, I would say 2 fingers or less is a hassle simply because the toe box is so square. This has a huge advantage on 3in or wider crack though as the shoe shape allows some serious grip on the inside and outside rubber. Some cracks I don't even have to edge against anymore, I can just kick my foot in and walk up it.

If you like slab, cracks on slab, or overhang. Buy these.

Another note, the top rubber does tend to flake quickly, but it hasn't affected the performance of the shoe in any noticeable way. Where it flakes is more of an aesthetic part of the shoe instead of a functional area.
View More Details on Five Ten Rock Wrench Climbing Shoe