Gear Review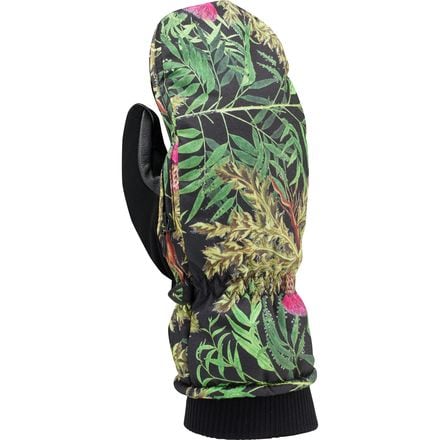 I love these mittens! Both of my brothers have an old pair of Analog mitts with the zippered hand and I had been wanting some like it for years, finally Burton made these! They don't make these for women (wtf Burton? don't you know girls like cool stuff too?), so I ordered them in a small (I'm usually medium in wmn's) and they're still a tiny bit big but not to the point of being inconvenient. I will never go back to a pair of mittens that doesn't have the zipper, because these ones are way too convenient. These mitts are so warm that my hands will even start to sweat after a run, but no problem - just open the zippers for some fresh air. Messing with my mp3 player, pulling out my wallet, adjusting my boots, & everything else needing some finger dexterity are no problem when a quick unzip frees your little friends for whatever task you need them for. The only negative thing I could say about these mitts is that there isn't a flap covering the zipper on the inside of the mitt to protect against extra moisture, but honestly I have never had a problem with any wetness getting through the closed zipper.

I love these mittens so much that I lost one of them on the mountain yesterday and am ordering a new pair RIGHT NOW in case it doesn't show up at lost and found... The thought of the inconvenience of a mitt that always has to be pulled off to use my fingers just sucks too bad now that I've experienced the glory of the Hi-Five Mitts :)

One more thing about these mitts: They have a pretty short cuff so they are really best worn inside of your jacket's wrist cuff. So if you have a jacket that doesn't have wrist gaiters or wrist adjusters that can get really tight, these might not work the best for you.
View More Details on Burton Hi-Five Mitt - Men's